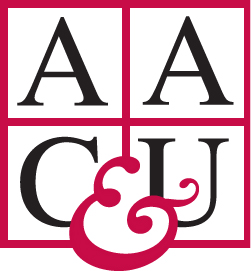 If you attended the 2015 annual conference of the Association of American Colleges & Universities, you might have seen The Academic Minute.
"The mission of the Association of American Colleges and Universities is to make liberal education and inclusive excellence the foundation for institutional purpose and educational practice in higher education."
Taking place in Washington D.C., the event was held at the Marriott Marquee. Faculty, deans, administrative professionals and so many more attended speeches and visited the various tables, each with a higher ed focus.
Along with our gracious hosts at the Inside Higher Ed table, The Academic Minute was on hand to discuss the program with the conference attendees. Over the course of our stay, producer Matthew Pryce and production consultant Kevin McCaffrey spoke to the representatives of numerous schools spreading the word about the program; many of whom were already familiar with The Academic Minute. For a brief look at the conference, please enjoy the photo gallery below.
Our thanks go out to WAMC Northeast Public Radio, Mount Holyoke College, Inside Higher Ed and the AAC&U.
We hope to see you again next year.