Ken Noll featured on The Best Of Our Knowledge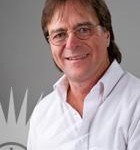 As always, host Bob Barrett selects an Academic Minute to air during The Best of Our Knowledge.
Each week this program examines some of the issues unique to college campuses, looks at the latest research, and invites commentary from experts and administrators from all levels of education.
---
For this week's edition (#1266), Bob has selected Dr. Ken Noll of UCONN's timely segment on a curious passage from Charles Dickens' A Christmas Carol.


Ken Noll is a professor of molecular and cell biology at the University of Connecticut where he studies thermophilic microbes that live in high temperature environments such as hot springs, volcanically-heated muds, and deep sea vents. He is also involved in a project investigating the microbes that inhabit the gut of termites. His work has been widely published and he holds a Ph.D. from the University of Illinois.


Listen to The Best of Our Knowledge on WAMC.org or any of its carriage stations.