Best Health Segment Award: Gabe Neal, Texas A&M University – Paper Cuts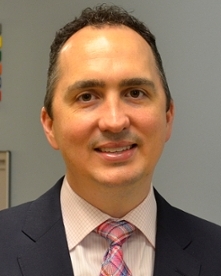 This is Best of Week on The Academic Minute: For the Best Health Segment Award: Gabe Neal, clinical assistant professor at Texas A&M University, explored why paper cuts are such a nuisance.
I am board-certified Family Medicine physician and Fellow of the American Academy of Family Physicians. My love for patients and students is what brought me from private practice to academic medicine at the Texas A&M Health Science Center College of Medicine. I supervise family medicine residents, serve as our clinic's medical director and COO, as well as direct our local campus family medicine clerkship. A few of my special interests are medical ethics and international medicine.
My wife Stacy and I have five children. We enjoy a lot of things such as swimming, reading, board games, traveling, and spending time with friends. But mostly we do a lot of laundry and cooking.
Paper Cuts

Consider, for a moment, the paper cut. It happens suddenly and unexpectedly, usually
just as you are finally getting somewhere on that task you had been putting off.
Physically, paper cuts hurt as much as they do for a variety of reasons. They typically
occur on parts of our bodies that are the most sensitive, such as the fingers, lips or
tongue. The nerve networks of these body parts discriminate with exceptional clarity,
sensations of pressure, heat, cold and injury. Our brain even has specialized areas to
receive signals coming from these parts in high definition. The exquisite sensing abilities
that make our fingers, lips and tongue so good at what they normally do, also make
injuries all the more painful.
These same highly sensitive areas are parts we use all the time. Cuts on fingers, lips and
the tongue tend to reopen throughout day dooming us to relive the pain again and again.
And the depth of the wound is perfect for exposing and exciting the nerve fibers. With a
paper cut, the nerve fibers are lit, and they are fully operational.
While the physical effects of a paper cut are a real drag, the mental
and emotional responses may be even worse. Think back to the feelings you have had about your paper cuts:
surprise that the mundane act of licking an envelope could result
in an injury; shame that your body didn't coordinate such a simple task; anger for
hurting yourself; or anxiety that it will happen again. Paper cuts are trivial, but they may
invoke a complex emotional response.
Paper cuts remind us that no matter how many times we have performed even a simple
task we are capable of accidentally hurting ourselves. If that makes us a little more
sympathetic to our neighbor's pains, and a little more humble, then maybe paper cuts do
us some good too. Maybe.