Paul Hearty, UNC Wilmington – Climate Change Patterns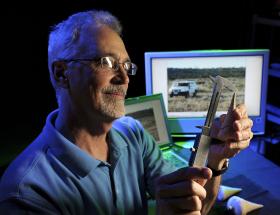 What's the best way to study climate change?
Paul Hearty, associate professor in the Environmental Studies department at the University of North Carolina Wilmington, is looking back in time in order to make conclusions about the future of our environment.
Paul Hearty is an associate professor in the Environmental Studies Department at the University of North Carolina Wilmington. He has a diverse scientific background in the natural sciences, with specialization in coastal processes involving sedimentology, paleoenvironmental reconstruction, and ecology. Dr. Hearty earned his Ph.D. at the University of Colorado, Boulder.
Paul Hearty, UNC Wilmington – Climate Change Patterns
Global warming has been nabbing news headlines for the past decade.
Research efforts are continuing to grow and many scientists are probing various components of the climate system present today for evidence to prove that global warming is occurring in our modern times. But our PLIOMAX group is taking a different approach. I work with a team of world-class scientists and we assess climate impacts of global warming using geological observations and paleoclimate data. This pre-human line of evidence allows us to find clues about 'natural' global warming from the past in order to better understand tomorrow's world.
Our PLIOMAX team studies fossils, the effect of past and present ice sheets, geological formations and paleo-environmental global conditions during the Pliocene, which happened about 3.3 to 2.9 million years ago. Average temperatures were somewhat warmer and atmospheric composition, particularly about 400 ppmv of CO2, found during that era would be comparable to what we are experiencing today.
During our five-year project, we will build a comprehensive model of the earth's atmosphere, ocean and ice sheet systems, allowing future scientists to more accurately forecast future conditions. We are in the business of understanding how our planet, the crust and ice caps, will respond to atmospheric changes, but we do not predict what will happen. So far, our findings reveal how the consequences of [a projected] 2°C global warming by 2100 [may] have been severely underestimated and urgent strategies for emission reduction are required to achieve a more sustainable 1°C warming target.
We will continue to work for the next year to compile and publish our field data. We've uncovered enough information to keep scientists busy for years to come, and we hope this research will also help the scientific community better understand how nature worked in the past in order to improve projections for the future effects of climate change.