Kerry Whigham, Binghamton University – Reparations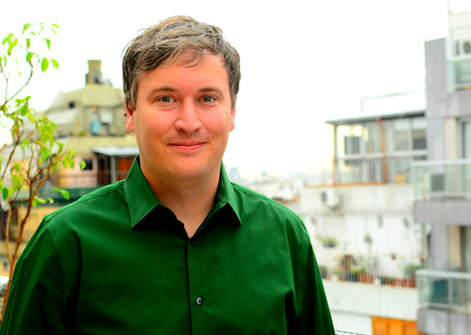 Dealing with the past can be crucial to moving forward.
Kerry Whigham, assistant professor of genocide and mass atrocity at Binghamton University, has one example.
Kerry Whigham is Assistant Professor of Genocide and Mass Atrocity Prevention at Binghamton University's Institute for Genocide and Mass Atrocity Prevention (I-GMAP). He received a Ph.D. in Performance Studies from New York University. He has published articles in Genocide Studies and Prevention, The Journal of Latin American Cultural Studies, Public Administration Review, Tourist Studies, Material Culture, and Museum and Society, and has written chapters for several edited volumes. His first book, Resonant Violence: Affect, Memory, and Activism in Post-Genocide Socities, will be published in 2021 by Rutgers University Press. He is the Communications Officer and a member of the executive board for the International Association of Genocide Scholars (IAGS). He is also the curator of Artivism, an art exhibition on the connection between art, activism, and atrocity prevention that began in Venice during the 2019 Art Biennale and is now traveling to museums around the world.
In addition to his academic work, he is the Director of Research and Online Education at the Auschwitz Institute for the Prevention of Genocide and Mass Atrocities​, an international non-governmental organization that works with over 80 countries around the world on creating public policy for the protection of vulnerable groups and the prevention of mass atrocities.
Formerly, he has been a Postdoctoral Research and Teaching Fellow at Binghamton University's I-GMAP, a Postdoctoral Researcher at Columbia University's Institute for the Study of Human Rights, a member of the faculty consortium for Stockton University's graduate certificate program in genocide prevention, a visiting scholar at Rutgers University's Center for the Study of Genocide and Human Rights, and the managing editor of emisférica, a biannual, trilingual, peer-reviewed journal on performance and politics in the Americas, published by the Hemispheric Institute of Performance and Politics.  He has taught courses at New York University, Kean University, and Stockton University. His work has been presented at academic conferences and universities in five continents.
Kerry's research focuses on the way post-atrocity societies remember and engage with the past, along with how that violent past impacts the present and future. In particular, his research engages the creation and curation of public memory sites, as well as grassroots, civil society activism, both as a means for shaping public memory and transforming post-conflict societies. As part of this work, Kerry has conducted field research across Latin America, Europe, and the United States.
Reparations

In the United States, reparations initiatives relating to the country's history of slavery and its enduring impacts are gaining traction. In April 2021, the US House of Representatives voted to advance House Resolution 40, a bill to establish a commission to explore reparations for Black Americans. In July 2020, the city council of Asheville, North Carolina, voted in favor of providing reparations funding to its Black residents. A growing number of American universities are also reckoning with their own past involvement in the enslavement of people by initiating reparations programs.
Reparations in response to past atrocities are not a new idea. For years, they have been used as a tool for dealing with past human rights abuses all over the world, from Cambodia to Chile, Argentina to South Africa. With a few exceptions, most of these cases have occurred in the so-called Global South. Recently, however, countries in the Global North have begun to use these tools to an increasing degree.
But in many cases, these initiatives are ignoring the lessons learned and failing to apply many of the best practices from past initiatives, to damaging effect.
The most important thing to remember about reparations is that they are always about more than the money. Reparations serve an economic, political, and social function, and if those crafting a reparative strategy do not attend to all these components, their policy is unlikely to achieve what it intends. Furthermore, an international consensus has developed that reparations should only be one pillar, however essential, of a much more complex process of dealing with the past. If reparations occur without following these lessons learned and without being complemented by other initiatives, like truth commissions and large-scale institutional reform, they will fail to live up to the aspirations that many have for them.