Jorge Contreras, University of Utah – Open COVID Pledge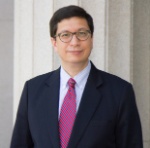 Battling COVID-19 takes a team of people.
Jorge L. Contreras, professor of law at the University of Utah, looks into how some made a pledge to do so.
Jorge L. Contreras teaches in the areas of intellectual property law, property law and genetics and the law.  He has recently been named one of the University of Utah's Presidential Scholars, and won the 2018-19 Faculty Scholarship Award from the S.J. Quinney College of Law.
Professor Contreras has previously served on the law faculties of American University Washington College of Law and Washington University in St. Louis, and was a partner at the international law firm Wilmer Cutler Pickering Hale and Dorr LLP, where he practiced transactional and intellectual property law in Boston, London and Washington DC.
Professor Contreras's current research focuses, among other things, on the development of technical standards and the use and dissemination of data generated by large-scale scientific research projects. He has edited six books and published more than 100 scholarly articles and book chapters. His published work has appeared in scientific, legal and policy journals including Science, Nature, ​NYU Law Review, Georgetown Law Journal, North Carolina Law Review, Florida State Law Review, American University Law Review, Harvard Journal of Law and Technology, Berkeley Technology Law Journal, Antitrust Law Journal, and Utah Law Review. He has been quoted by numerous media outlets including the New York Times, Wall Street Journal, Economist, Bloomberg, Washington Post, Korea Times and has been featured on NPR, PRI and BBC radio shows and a range of podcasts and online news programs.
Professor Contreras serves Co-Chair of the Interdisciplinary Division of the ABA's Section of Science & Technology Law and a member of the Advisory Board of the American Antitrust Institute. He has served as Co-Chair of the National Conference of Lawyers and Scientists, a member of the National Academy of Sciences (NAS) Committee on Intellectual Property Management in Standard-Setting Processes, the National Institutes of Health (NIH) Council of Councils, the Advisory Council of NIH's National Center for the Advancement of Translational Sciences (NCATS), the Cures Acceleration Network (CAN) Board, the National Advisory Council for Human Genome Research, and the Intellectual Property Rights Policy Committee of the American National Standards Institute (ANSI). He also serves on the Scientific Advisory Board of the Utah Genome Project.
He is a cum laude graduate of Harvard Law School (JD) and Rice University (BA, BSEE) and clerked for Chief Justice Thomas R. Philips of the Texas Supreme Court.
Open COVID Pledge

In early March 2020, along with news reports about the rapid spread of COVID-19 and its serious health effects, stories began to emerge that patents could hinder vaccine and drug research, as well as the manufacture and supply of products necessary to contain the pandemic and treat those with the disease.
In response to this threat, a group of scientists, engineers and legal experts came together to create a legal framework that would enable organizations to make their patents broadly available in the fight against the pandemic. 
This framework was launched in April, 2020, as the Open COVID Pledge.  It allows any holder of patents or copyrights to make those rights available without charge to anyone in the world who uses them in the fight against COVID-19. 
Legally, the Pledge is based on licensing models developed over the years by the open source software community and Creative Commons.  It is unique, however, in its targeted approach to a single public health emergency.
The response to the Pledge was both surprising and encouraging.  Within the first few months, firms like Microsoft, Facebook, IBM, Amazon, Intel and Uber, as well as Sandia National Labs and the NASA Jet Propulsion Lab, pledged an estimated half million patents to the COVID-19 response. 
These patents cover critical technologies such as respirators, ventilators and diagnostics, as well as software for disease modeling, contact tracing, emergency services routing and supply chain management.  Other patent pledges have been made independently by vaccine maker Moderna, pharmaceutical firm AbbVie, ventilator manufacturers Medtronic and Smiths Group, and several others.
Today, we continue to study the adoption and use of pledged patents in the fight against COVID-19, and are trying to understand how such pledges can impact the response both to this and future global health crises.