Chelsea Morris, University of West Georgia – Pyramid Model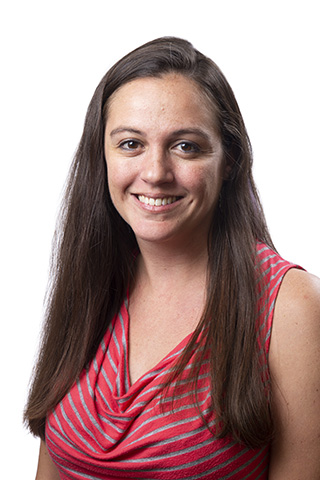 On University of West Georgia Week: What is the Pyramid Model and why can it help preschool classrooms?
Chelsea Morris, assistant professor of early childhood special education, explains.
Dr. Chelsea T. Morris is an Assistant Professor in the Department of Literacy and Special Education. Prior to pursuing her Ph.D., Dr. Morris was a teacher in a children's hospital and later, a public school early childhood special education teacher. She is committed to thinking differently, and deeply, about what is good for children, utilizing culturally responsive practices, an ethic of care, and a willingness to take risks. Dr. Morris' current teaching and research projects focus on bias in the perceptions of children's behavior in early childhood. This teaching and research is bolstered by expertise in practice-based coaching and trauma informed care through the nationally recognized Pyramid Model framework. Applying Pyramid Model strategies to all her endeavors, Dr. Morris builds environments conducive to positive behavior and relationships and focuses on the engagement of communities and families for school improvement. Most recently, Dr. Morris helped to open the Early Learning Center, powered by the College of Education, at UWG. In partnership with supportive colleagues and a community focused on early learning, Dr. Morris hopes her role as faculty director provides a spotlight on the importance of quality childcare and early learning opportunities in the West Georgia region.
"This segment was recorded at The WOLF Internet Radio in the Department of Mass Communications at the University of West Georgia."
Pyramid Model

National data shows preschool children are being suspended and expelled. Misbehavior of children at this age is often developmentally normative or a symptom of other life experiences, like trauma, insecure housing, or a lack of social opportunities.
More concerning: children of color, boys, and children with disabilities experience discipline practices at disproportionately higher rates. Some suggest that creating policies that ban suspension and expulsion of young children is the best way to solve this issue. However, in our recent policy analysis, we found only 15 states with this legislation – many not comprehensive enough to apply or understand.
Banning children's removal also does not mean the challenging instances stop. In more than 25 classrooms with hundreds of children, we utilized practice-based coaching to implement and measure the impact of the Pyramid Model, a social-emotional framework for intervention and support in early childhood classrooms. 
Our findings have indicated that teachers, families, and children all respond positively to Pyramid Model practices aimed at building high-quality environments and positive, nurturing relationships. By helping others understand the pyramid model through training and resource development, school communities now have one pathway to provide holistic support to young children and their families.
As a teacher educator, I model what I expect my students to do; for me, this means applying the Pyramid Model practices to college classrooms. Even older students need high-quality environments and positive, nurturing relationships. I focus on flexible scheduling, a welcoming office, and gradeless environments.  I hope my support in early childhood classrooms and in my own college classroom help eliminate many of the systemic barriers to learning.