Neha Mittal, University of North Carolina Charlotte – Wastewater and COVID-19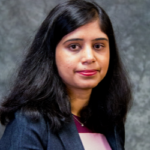 Tracking a disease is not pretty.
Neha Mittal, post-doctoral associate in the department of bioinformatics and genomics at the University of North Carolina Charlotte, discusses one useful way to track to COVID-19.
My name is Neha Mittal, and I have completed my Ph.D. in the year of 2020 in Biological Sciences from University of North Carolina at Charlotte. Presently, I am working as a Post-Doctoral Research Scholar, at the Department of Bioinformatics and Genomics at University of North Carolina at Charlotte. My present research focuses on the campus surveillance using wastewater to monitor and potentially stop an outbreak of COID-19 in the campus community. Overall, I have more than 7 years of wet lab research experience in the field of genomics and molecular biology and have clear understanding and knowledge about the computational analysis of various types of biological datasets.
I am also working as an Adjunct Faculty at the Department of Biological Sciences, UNC Charlotte from the past 2 years and am involved in teaching oral and written communication improving courses
Wastewater and COVID-19

Wastewater is a grayish-brown mixture which contains all the water flushed out of a household or building – from showers, sinks, water fountains, to, yes, even human waste from toilets.
According to the U.S. Centers for Disease Control and Prevention (CDC), wastewater-based epidemiology is an excellent strategy to monitor the spread of coronavirus, since SARS-CoV-2 can be shed off in

the feces of infected people who may not have any symptoms yet. Though the virus gets inactivated in human feces (waste), its presence and quantity can be detected by PCR in these samples.
This approach for SARS-CoV-2 monitoring has drawn the attention of UNCC researchers and we are using this method to potentially stop an outbreak in the campus community.  Measuring the virus in

wastewater involves four main steps: collecting samples, concentrating them down, extracting the viral RNA, and quantifying it. Wastewater sample concentration can be done in several ways, but we
are using the electronegative filtration method. This is a useful approach for effective viral recovery and to minimize its low detection limits. To figure out if the virus is present, we measure the amount of
nucleic acid (RNA) using reverse transcription-qPCR, also known as RT-qPCR. This is a method for detecting a specific RNA sequence by primers amplifying it and looking for its total number of copies.
Coronavirus is especially devastating in group environments such as schools and residential college campuses. By using wastewater-based surveillance, UNC Charlotte can monitor its spread as it is an
effective way to determine infection in a community, since researchers like myself can catch cases even before they spread.