Michael Mulryan, Christopher Newport University – Moral Education as a Solution to Social Division and Political Polarization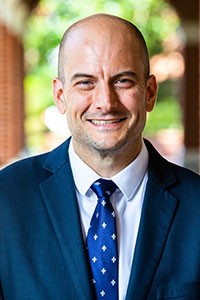 Political polarization isn't new.
Michael Mulryan, associate professor of French and French literature at Christopher Newport University, tells a tale of the past to show similarities to today's climate.
Michael J. Mulryan an Associate Professor of French and French Literature at Christopher Newport University in Newport News, Virginia. He holds a Bachelor's degree in French and History from Saint Bonaventure University, an MA in Museum Professions from Seton Hall University and an MA and PhD in French Studies from the University of Illinois at Urbana-Champaign. Mulryan's research focuses on the representation of the marginalized in eighteenth-century European literature and marginalized Europeans' literary representation of their world. His work unveils how the oppression of social categories leads to revolution and political shifts. He recently co-edited a book on prison escape tales (Bucknell University Press, 2016) and co-edited and co-translated an educational treatise by Louis-Sébastien Mercier (MHRA 2020). His work on Enlightenment literature and culture has appeared in numerous national and international academic journals. He is currently working on a monograph on Mercier's representation of social injustice in the city of Paris during the last quarter of the eighteenth century.
Moral Education as a Solution to Social Division and Political Polarization

Political polarization in western society was just as prevalent over two hundred years ago as it is today. One key figure from the French Revolution sought a solution to the havoc wreaked by such division. Louis-Sébastien Mercier (1740-1814) was a literary author, journalist, and politician who is best known today for his moving descriptions of daily urban life in Paris during the last quarter of the eighteenth century. He was also a witness and survivor of the violence of the French Revolution, having just escaped the guillotine's blade for publicly opposing Robespierre and the Jacobins' political fanaticism. He had always been sympathetic to the laboring poor's plight but was baffled by their participation in acts of atrocity during the Reign of Terror. He sought both to understand and eliminate the moral void that could have caused such evil.
This is why he wrote a treatise on moral education for the people in 1801 at the time of Napoleon's ascent to power. A colleague and I recently edited and translated this previously unpublished manuscript. Mercier envisioned a public-school system that taught interdisciplinarity, critical thinking but also morality and religion. He wanted students to act morally because it was the right thing to do, and not in order to impress others or because they had ulterior motives. In order to teach this brand of morality, Mercier showed how to apply Immanuel Kant's ideas on moral philosophy and behavior in a way to make them accessible to a larger public. Mercier's ultimate goal was to help form a moral citizenry as a vanguard for the survival of a healthy republic. He attempted to demonstrate how we can teach young people to understand the dangers associated with a naïve belief in absolutes, be they religious, philosophical, or political, and the various types of fanaticism that they unleash.