Maurice Suckling, Rensselaer Polytechnic Institute – Board Games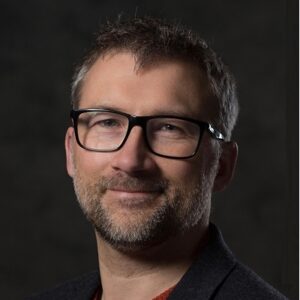 Board games still have a place in our digital society.
Maurice Suckling, assistant professor of practice, games and simulation arts and sciences at Rensselaer Polytechnic Institute, details why.
Maurice Suckling has worked in the video games industry for over twenty years, and on over fifty published video game titles. He has worked with publishers such as Atari, SONY, Ubisoft, Microsoft, Epic, Disney, 2K, Nintendo, Deep Silver, and the BBC. He's worked as a producer, a designer, a voice director, a motion capture director, an animation director, but most often as a writer. His most recent game writing credits include Fortnite, Civilization VI, and Lost Words: Beyond the Page.  He is also a professional board game designer, specializing in historical simulations. His third game is currently in production.
In addition to games, he has also worked in TV, theatre, film, and fiction.  He holds a PhD in Creative Writing, and a Master's degree in Global History.  His research interests are narrative innovation and representations of history in games.
Board Games

Humans play games for entertainment, to the pass the time, to socialize, to learn skills of strategy and organization, and to exercise their imaginations. Video games seem to get all the attention these days but board games continue to grow and evolve. In the past decade, the board game industry has transformed into a dynamic sector valued at over $12 billion. But it's no longer limited to family game night with Risk, Monopoly and Chutes and Ladders. Nowadays, even in the pandemic, people turn to board games to engage with and escape from the world.
People are playing solo games, to explore ideas, to experience stories. Board games tell stories that can change each time a game is played although the best stories board games tell may be where the game is not really re-playable – with key reversals and revelations diluted in dramatic value upon a second visit. And better than telling stories, games let us experience stories. We can lose ourselves in another world, let our minds wander, have a bit of fun.
People are also playing together. They're playing in their 'bubbles', within families and close friends. They're playing remotely in various forms. They're playing party and social games like 'Codenames' through Zoom. They're also playing board games digitally through Tabletop Simulator, Vassal and other software. These aren't video games. They're board games in an online format.
To understand why people seek to continue to play together even in a time where we must remain socially distant, it's important to understand the social dimension of gameplay. Some humans crave companionship and in board games, they find a community of people with similar passions. Board games allow us to be someone new, some where new. They allow us to compete but also to cooperate. That basic human desire to imagine and create will engage board game designers and players long into the future.