David Schultz, Hamline University – Baby Boomer Era of Politics Ending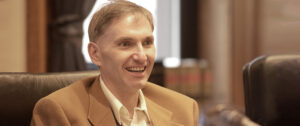 A generational swing could change the outcome of the 2020 election.
David Schultz, professor of political science at Hamline University, discusses why.
David Schultz is a Hamline University Professor of Political Science who teaches across a wide range of American politics classes including public policy and administration, campaigns and elections, and government ethics. David is also a professor in the Hamline and University of Minnesota Schools of Law where he teaches election law. David is the author of 30 books and 100+ articles on various aspects of American politics, election law, and the media and politics, and he is regularly interviewed and quoted in the local, national, and international media on these subjects by agencies including the New York Times, The Wall Street Journal, The Washington Post, The Economist, and National Public Radio. His most recent books are Presidential Swing States: Why Only Ten Matter (2015), Election Law and Democratic Theory (2014), and American Politics in the Age of Ignorance: Why Lawmakers Choose Belief Over Research (2013). A three-time Fulbright scholar who has taught extensively in Europe, Professor Schultz is the 2013 Leslie A. Whittington national award winner for excellence in public affairs teaching.
Baby Boomer Era of Politics Ending

The 2020 US elections are important for many reasons.
Among them this will be the first in more than 30 years where Baby Boomers are not the largest generational voting bloc.  It is the beginning of the end of the political era of the Baby Boomer generation.
Generations drive political change.  Each new generation is socialized in its adolescence to think about the world, including politics, in a unique way.  They experience common events, such as wars, economic changes, or major cultural landmarks, imprinting their political beliefs for life.  As adults in their late 30s they are in a position to act on those beliefs and begin to remake the world in their generational image.
The Baby Boomers were no different. Born after World War II and up to about 1960, these 77 million individuals came of age during the Cold and Vietnam Wars, Richard Nixon and Watergate, the Beatles on Ed Sullivan, Neal Armstrong on the Moon.
They changed American views on sex, marriage, civil, women's, and gay rights.   They were inspired by Rachel Carson and Earth Day to enact environmental legislation.  They elected Bill Clinton and George Bush as their own, and as they aged pushed for health care reform.
For some, the Baby Boomer era of politics brought needed change, for others it is good riddance and time for a new generation to take over.
With the 2020 election the political torch passes not to Gen X–the small generation born after them–but to the Millennials and Gen Z.  They are the most populous and racially and ethically diverse generations in history.  How politics will change as a result of them is just beginning to be seen.  But there is no question that while the Boomers had a major political impact, their era is ending.