Ray Brescia, Albany Law School – Social Distance and Social Change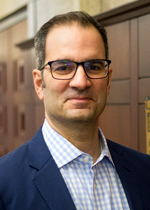 Successful social movements have some things in common.
Ray Brescia, professor of law at Albany Law School, examines how to best get your message across.
Professor Brescia combines his experience as a public interest attorney in New York City with his scholarly interests to address economic and social inequality, the legal and policy implications of financial crises, how innovative legal and regulatory approaches can improve economic and community development efforts, and the need to expand access to justice for people of low and moderate income.
Before coming to Albany Law, he was the Associate Director of the Urban Justice Center in New York, N.Y., where he coordinated legal representation for community-based institutions in areas such as housing, economic justice, workers' rights, civil rights and environmental justice. He also served as an adjunct professor at New York Law School from 1997 through 2006. Prior to his work at the Urban Justice Center, he was a staff attorney at New Haven Legal Assistance and the Legal Aid Society of New York, where he was a recipient of a Skadden Fellowship after graduation from law school.
Professor Brescia also served as Law Clerk to the pathbreaking Civil Rights attorney-turned-federal judge, the Honorable Constance Baker Motley, Senior U.S. District Court Judge for the Southern District of New York. While a student Yale Law School, Professor Brescia was co-recipient of the Charles Albom Prize for Appellate Advocacy; was a student director of several clinics, including the Allard K. Lowenstein International Human Rights Law Clinic and the Homelessness Clinic; and was Visiting Lecturer in Yale College.
He explores some of the themes of his Academic Minute talk in The Future of Change: How Technology Shapes Social Revolutions (Cornell University Press, 2020).
Social Distance and Social Change

One Sunday night, fifty-five years ago, in living rooms across the country, tens of millions of Americans gathered together to watch "Judgment at Nuremberg," a dramatic depiction of the post-WWII trials of German judges during the holocaust. With a star-studded cast, the show promised ratings gold.  Once underway, however, the broadcast was interrupted by news alerts showing civil rights activists being beaten by authorities in Selma, Alabama, on the Edmund Pettus Bridge.  Since Judgment at Nuremburg dealt with the culpability of ordinary Germans for Nazi atrocities, the juxtaposition of the images from Bloody Sunday was striking, and helped galvanize public support for what would become the Voting Rights Act.
But the leaders of the Civil Rights Movement were not the first to utilize the most modern means of communication available to them to bring about social change.  Since the dawning of the American experiment, social movements have long captivated our attention through advances in communications technology.  The Sons of Liberty utilized the printing press, the Woman's Movement of the Mid-19th Century – the telegraph.  But the technology itself has not brought about change.  No, in addition to utilizing advances in communications technology, these and other successful social movements have operated through grassroots networks built on face-to-face encounters.  They also embraced positive, unifying messages that stressed shared interests over difference.  Today, as we face an unprecedented crisis that keeps us at a physical distance, we can leverage technology to create community across that distance, to see that we are all in this together.  It can help us not only get through the current crisis, but also solve those we still must face once we have beaten COVID 19.