Katrina Hoop, Saint Joseph's College – The Sociological Imagination, Students' Lives-As-Text, and Teaching During a Pandemic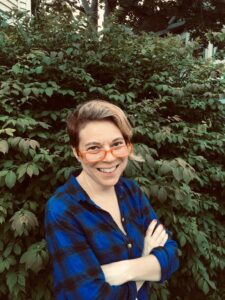 COVID-19 is an invitation to think more sociologically.
Katrina Hoop, associate professor of sociology at St. Joseph's College, discusses teaching her students to think this way during this crisis.
Katrina Hoop was drawn to the field of Sociology because it offers a unique perspective on how people make sense of their lives, understand each other's experiences, and change the world. Her many areas of interest include social movements and language, the immigrant experience, youth culture, and effective teaching strategies.
Her recent work focuses on the dynamics of social movements, language, and identity. In particular, she studies the "strange bedfellow phenomenon," looking at unexpected collaboration between divergent interest groups, including the anti-gambling, the anti-USA PATRIOT Act legislation, and the anti-human/sexual trafficking movements. Furthermore, she has researched how break-dancers learn to dance, religious conflict in a Unitarian church, and high school drop-outs in Belfast, Northern Ireland. Her current research focuses on the experiences of recent immigrants to Portland, Maine, the challenges in teaching sociology, and how to incorporate service learning in sociology courses.
She has taught at the Maine Correctional Center through the University of Maine at Augusta.   She is currently developing a project with incarcerated women so that they can inform policy makers of their needs. She has worked with a number of non-profit organizations dedicated to advancing social justice in the southern Maine area.  She serves on the editorial board of Teaching Sociology.
The Sociological Imagination, Students' Lives-As-Text, and Teaching During a Pandemic

C. Wright Mills noted that a central goal of any Sociology class is to help learners develop, what we call, a "sociological imagination." Using a sociological imagination, not only can we understand how our individual lives are impacted by larger social forces, but we can start to see how "personal troubles" that individuals face are actually "public issues" that impact millions of others. A "lives-as-text" approach in Sociology is asking students to begin with their own biographical experiences.
Then, we use this to think through the connections to social forces, analyze questions posed by major social theorists, and reflect on how those questions help them think through their lives-as-texts.
As a sociologist, COVID19 has highlighted sociological themes in our society such as: privilege, individualism, and inequality. In my Social Theory class, I used the pandemic to bring in the empirical world as a guide. How is society changing?  What are groups of people experiencing? What questions would social theorists ask about our experience with this pandemic? Next, students applied these questions and various frameworks to reflect on their own lives. While acknowledging their personal problems, we explore the connection between their experiences and societal forces.
Through this reflective learning process, material we covered helped them better develop a sociological imagination.  When we include a students' "lives-as-text" approach as we teach theories and concepts, our students personally experience how critical reflection empowers them to better understand their lives – whether it is in the workplace, their civic lives, or their personal lives.