Heather Houser, University of Texas at Austin – Infowhelm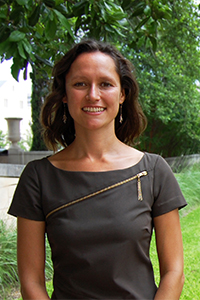 Listening to the news can be overwhelming at times.
Heather Houser, associate professor of English at the University of Texas at Austin, explores how art can help bring renewal to our senses.
I'm an associate professor of English at The University of Texas at Austin and hold affiliations with American Studies, Center for Women's and Gender Studies, and Rapoport Center for Human Rights & Justice. My first book is Ecosickness in Contemporary U.S. Fiction: Environment and Affect (Columbia UP, 2014), which won the 2015 Association for the Study of the Arts of the Present (ASAP) Book Prize and was shortlisted for the 2014 British Society for Literature and Science (BSLS) Book Prize. My new book, Infowhelm: Environmental Art and Literature in an Age of Data, appeared with Columbia UP in May 2020. In 2019-20, I am chair of the Organizing Committee of Planet Texas 2050, UT's first Bridging Barriers grand research challenge. I'm also the Associate Graduate Advisor for English in 2020-21 and an associate editor at Contemporary Literature.
My research has been supported by external fellowships from the Tanner Humanities Center at the University of Utah (2018-19), American Academy of Arts & Sciences (2013-14), Mellon Foundation (2010-11), Whiting Foundation (2009-10), and US Department of Education Jacob K. Javits Program (2004-08).
Recent essays appear in: New York Review of Books Daily, LitHub, New Literary History, ASAP/Journal, English Language Notes, Modern Fiction Studies. I'm no longer keeping this up to date as of June 2020; see heatherhouser.com for full, current list of pubs.
Recent op-eds in Austin American-Statesman, Waco Tribune-Herald, Corpus-Christi Caller-Times (April 2020); Abilene Reporter News; Austin American-Statesman; San Antonio Express-News (Oct 2020); Life & Letters (June 2018); Dallas Morning-News, Houston Chronicle (March 2017). I'm no longer keeping this up to date as of June 2020; see heatherhouser.com for full, current list of pubs.
Infowhelm

Scanning social media or news feeds, you've probably experienced "infowhelm." This isn't simply information overload. It includes a cocktail of emotions brought on by a deluge of data that's often contested by those in power and whose stakes are enormous.
I first took note of infowhelm in the context of environmental crises like climate change. Daily life as a media consumer is now suffused with statistics on everything from carbon dioxide emissions to the health effects of air pollution on people of color. Currently, in the midst of the coronavirus pandemic, abundant, contested, and urgent data are more prevalent than ever.
What does art have to do with this experience of infowhelm? Studying environmental literature and visual art from the twenty-first century, I've discovered that artists don't just document the experience of data abundance; they turn it into a resource for bringing the arts and sciences together to produce knowledge. When addressing issues like climate crisis, it's customary to turn to the natural sciences and to seek out technological solutions. The art of the infowhelm instead incorporates scientific information in order to propose that complex crises require "entangled epistemologies": these are ways of knowing that mingle scientific data and explanations with those rooted in the body and emotion and in states of ambiguity, speculation, and uncertainty.
Integrating such varied ways of knowing, the arts go beyond communicating stories about crises. They instead overhaul perception, feeling, and thought, the crucial foundations for social and environmental renewal.