Helena Blumen, Albert Einstein College of Medicine – Dancing and Dementia Prevention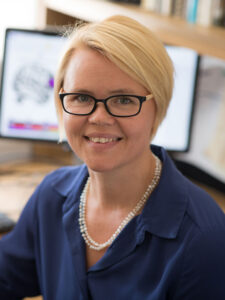 Don't want to exercise?  How about a dance instead?
Helena Blumen, assistant professor in the department of medicine at the Albert Einstein College of Medicine, gets us moving and shaking.
I'm a cognitive neuroscientist with particular expertise and training in cognitive and motor aging, magnetic resonance imaging and clinical research methods. I completed my Ph.D in Cognitive Psychology at Stony Brook University in 2008 and an MS in Clinical Research Methods at Albert Einstein College of Medicine in 2018. I also completed a T32 NIH/NIA postdoctoral fellowship in the Neuropsychology of Cognition in Aging Training Program at Columbia University Medical Center in 2011, and a neuroimaging fellowship at Albert Einstein College of Medicine in 2013. I'm currently an assistant professor of Medicine (Geriatrics) and Neurology (Division of Cognitive and Motor Aging) at Albert Einstein College of Medicine.
The overall theme of my research is to optimize gait and cognition in aging. I examine the potential for using collaboration, computer-based actions games, motor imagery and social dancing as a tool to improve cognition and mobility in aging and pre-dementia. The ultimate goal of my laboratory-based studies is to develop and test interventions that can be used to optimize cognition in community-dwellling older adults, and older adults that reside in nursing homes or naturally-occurring retirement communities.
Dancing and Dementia Prevention

Dancing is a complex activity that involves physical, cognitive, and social components. Some studies have shown that older adults can benefit from dancing – but there have been few studies examining its potential to prevent or delay cognitive decline, Alzheimer's disease, and related dementias.
We are conducting a small, randomized controlled trial to compare the effects of social dancing with treadmill-walking in older adults at increased risk for Alzheimer's disease. We are trying to discover if dancing can improve attention, planning and problem-solving processes, collectively referred to as executive functions. We are also examining if dancing can improve brain function.
Researchers have found that aerobic exercise benefits s cognitive performance. But such benefits are modest at best, and some older adults are unwilling or unable to follow a regular exercise program. Dancing may be more appealing and has a social component that some older adults prefer.
For our study, we've identified 32 older adults at increased risk for dementia based on memory test scores and their own reports about difficulty with decision-making, keeping track of finances, or forgetfulness. We conduct executive function and other cognitive tests, as well as MRI brain scans, before they start the program. For six months, half of them walk on a treadmill twice a week. The others participate in twice-weekly dance classes where they learn and practice the cha-cha, fox trot, hustle and other dances. We repeat the cognitive tests and brain scans after the study ends.
Our hypothesis is that because dancing is a more complex activity than treadmill-walking, we will see more benefits in executive functions, and brain regions associated with executive functions. With our initial results, we plan to design a larger study to delve more deeply into the effect of dancing on brain health and dementia prevention.