Bernadette Riley, New York Institute of Technology – Physicians and Social Media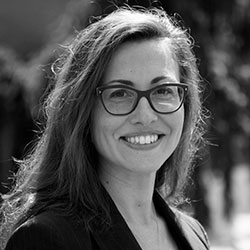 On New York Institute of Technology Week:  Should you send your doctor a friend request?
Bernadette Riley, associate professor of family medicine, explores the blurring of the private and professional lives.
Dr. Riley, a graduate of Fordham University (2001) and New York College of Osteopathic Medicine (2005), started her training as an ENT/Facial Plastic surgery intern and completed two years of residency at Union Hospital/Newark Beth Israel/St. Barnabas Medical Center before switching specialties. She finished her Family Medicine and Osteopathic Manipulative Treatment residency at Long Beach Medical Center, where she served as Chief Resident, and Family Medicine Resident of the Year.
Dr. Riley became the Director of New York Institute of Technology's Ehlers-Danlos Syndrome (EDS)/Hypermobility Treatment Center in August 2018. Before joining NYITCOM as an associate professor in October 2017, Dr. Riley served as Program Director of the Osteopathic Traditional Rotating Internship at South Nassau Communities Hospital, where she was also core faculty of their Family Medicine Residency and Coordinator of Simulation Medicine. Prior to that, she served as Medical Director of the Long Beach Group Practice and faculty attending physician at Long Beach Medical Center.
Dr. Riley has held past academic titles as clinical assistant professor at Hofstra/Northwell School of Medicine, Lake Erie College of Osteopathic Medicine, Ross University School of Medicine, and American University of Antigua School of Medicine. She serves as national faculty for the National Board of Osteopathic Medical Examiners.
In 2017, Riley achieved an academic qualification in International Medicine and Public Health from the Institute for International Medicine. In 2016, she became a fellow of the American College of Osteopathic Family Physicians (FACOFP), and in 2013 she was made a fellow of the Institute of Leadership in Medicine (FILM). She also was inducted into the ACOFP's Physician Leadership Institute in 2013 and became a Certified Physician Leader. In 2010, she received a Training in Policy Studies Fellowship. She has completed the ACOFP's Future Leaders series and served as a Future Leader Mentor. Dr. Riley is board certified in Family Medicine and Osteopathic Manipulative Medicine.
Dr. Riley has an interest in health policy and is Secretary of New York State Osteopathic Medical Society (NYSOMS), she is on the Executive Committee for Medical Society of the State of New York (MSSNY)- Nassau County, and Chairs the Education Committee at Nassau Academy of Medicine (NAM). She has been Chair of the Regional Osteopathic Conference (ROC-NY) since 2016 and has served as a delegate for the American Osteopathic Association since 2010. She also serves as a member of various national committees at the ACOFP. Currently, she is the Chair of the ACOFP 2020 National Convention.
Physicians and Social Media

It's not uncommon for physicians to receive a Facebook friend request from a patient they've treated. Social media platforms increase patient access to physicians and blur the boundary between a physician's professional and private life.
A growing number of health care organizations now encourage professionals to have a social media presence. However physicians are held to a higher standard. Content posted to social media platforms, as well as dating apps like Tinder, could possibly jeopardize a physician's professional credibility.
A study of U.S. urology residency graduates found that most had Facebook settings that were not private and more than half had posted unprofessional content.
In fact, more than half of U.S. medical school deans report complaints of inappropriate online postings by medical students. This rise in professionalism complaints has also been observed in the field where many medical organizations have established physician guidelines for social media and social networking sites.
However, there is not yet a mandated standardized curriculum to help medical students fully understand the consequences of social media usage. Medical students at risk for future professionalism complaints often exhibit red flags early in their medical career, but a required online professionalism curriculum could help them to avoid future complaints and potential medical board investigations.
Medical students can still be proactive without a formal lesson, and should be aware of privacy settings and set them accordingly, as well as establish boundaries with fellow users. When in doubt, act as you would in the office.