Amanda Miller, University of Indianapolis – Marriage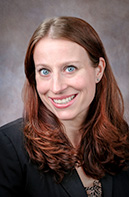 A wedding is one thing, the marriage is another.
Amanda Miller, associate professor of sociology at the University of Indianapolis, discusses how communication is key to the latter.
Amanda J. Miller is an associate professor of sociology and department chair at the University of Indianapolis.  Her areas of academic focus include family, gender and relationships.
Prior to returning to her home state of Indiana to join the faculty at the University of Indianapolis, Miller taught at the University of Central Oklahoma where she was recognized as the university's Liberal Arts New Faculty Member of the Year. Her research has been published in the Journal of Marriage and Family, Socius, Qualitative Sociology, the Journal of Family Issues, among other scholarly journals. She is also co-author, along with Sharon Sassler, of the book Cohabitation Nation: Gender, Class, and the Remaking of Relationships (2017, U. of California Press).
Marriage

Americans spend on average more than $30,000 on their own weddings, an amount that has been rising over time. These lavish celebrations may all be for naught if couples do not communicate with each other to compare notes about a few key details, first.
Most of the couples interviewed for our research listed a variety of ideas about the meaning of marriage. They were asked: What does marriage actually mean to each of you, and why are you doing it?
For some, it was just a fancy party designed to make Grandma happy and get nicer flatware. For others, it was a sacred commitment that couples believed would intensify their relationships. Still others saw it as a matter of practicality that would make filing taxes or buying a house easier.
Couples should take the time to explain to each other what marriage actually means to them to help ensure that they'll both be on the same page after their wedding day.
Other important conversations that often don't happen include:
Talking about children—having them, not having them, and the related responsibilities of using contraception.
We found that some of the smartest couples have developed couple-level systems for preventing pregnancy. Couples who were not explicitly clear on the details of contraception often had miscommunications–and more surprise pregnancies.
Household chores is another crucial yet often overlooked pre-wedding topic. Increasingly, young couples want egalitarian arrangements where both partners share paid labor and housework equally. "We'll each clean up after ourselves" sounds lovely, but it leaves out other necessary tasks.
Before walking down the aisle, couples should also take the time to start communicating about personal finances—and to make a solid budget.
While these conversations may feel decidedly unsexy, talking about everything–from the crucial to the mundane–can help set marriage up for success.