Sarah Stitzlein, University of Cincinnati – Hope and the 2020 Presidential Election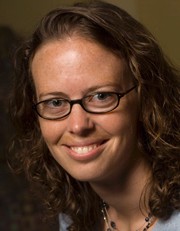 Hope isn't just for campaign slogans.
Sarah Stitzlein, professor of education at the University of Cincinnati, discusses how to put hope into action.
I am a Professor of Education and Affiliate Faculty in Philosophy at the University of Cincinnati. As a philosopher of education, I explore and clarify key concepts within and purposes of education from the perspective of social and political philosophy.  Additionally, I work to uncover problems in education and envision better alternatives.  I am especially interested in issues of political agency, educating for democracy, and equity in schools.
My most recently published book, American Public Education and the Responsibility of Its Citizens: Supporting Democracy in an Age of Accountability (Oxford University Press, 2017), supported by a Spencer Foundation grant, responds to the increasing hostile climate toward public education, especially in the era of school choice and lingering neoliberalism.  It argues that citizens should support public schools as a central institution of democracy. My previous book,Teaching Dissent: Citizenship Education and Political Activism, investigates the role of political dissent in citizenship education.  My AESA Critics Choice award-winning 2008 book, Breaking Bad Habits: Transforming Race and Gender in Schools, draws upon American pragmatism and feminist poststructuralism to offer teachers pathways out of persistent hierarchies of race and gender in schools. This social justice commitment carries throughout my work which has appeared in many journals, including: Educational Theory, Teachers College Record, Review of Educational Research, Journal of Curriculum Studies, Theory and Research in Education, Journal of Philosophy of Education, and Educational Studies.  I also serve as co-editor for the journal Democracy & Education and co-direct the Center for Hope and Justice Education.
In 2019, I will publish a new book with Oxford University Press entitled Reviving Hope in Democracy: Teaching Hope and Overcoming Despair in America.  The initial part of this project was supported by the Templeton Foundation in 2016 and laid out a pragmatist notion of hope and how it could be taught in schools.  In 2017 and 2018, I set out on a new extension of that sense of pragmatist hope, supported, in part, by the Center for Ethics & Education. I extended my discussion of hope into explicitly political areas by considering the relationship between hope and a vibrant democracy.  Responding to today's political climate, my book explains what hope is, why it matters to democracy, and how we teach it in schools and universities.
I have received the University of New Hampshire Outstanding Professor award and the University of Cincinnati Distinguished Teaching and Golden Apple awards.  I am also the recipient of the American Association of University Women Postdoctoral Research Fellowship and the National Endowment for the Humanities Teaching Development Fellowship.
I enjoy speaking to student and civic groups, where I address controversies in education from inequalities in schools to charter school conundrums to the role of schools in society.  I translate difficult philosophical ideas underlying educational issues into understandable and thought-provoking conversations.  I have spoken to high school student groups, public policy institutes, elected officials, advocacy organizations, public radio shows, and universities.
Hope and the 2020 Presidential Election

Even as kicking off the 2020 presidential campaign reminds us that elections are a hallmark of democracy, we know that democracy is struggling in America today.  Citizens increasingly feel cynical about our system and doubt they can influence public policy.  Distrustful of other Americans and elected officials, some are even turning to authoritarian alternatives.  Hyper-partisanship and recent contentious presidential elections have deepened political despair. While some citizens get swept up in optimism during campaign cycles, they often later find themselves frustrated with elected leaders as they wait for change. 
The problem is that the form of hope we tend to take up during elections doesn't involve sustained action.  We may have hope, but we don't really do anything about it beyond casting a ballot or touting our preferred candidate.  And we tend to think of hope as something that we possess as individuals—like a noun—rather than something that we do together as citizens—like a verb.
One approach to reviving democracy based in pragmatist educational philosophy and psychological research is to teach citizens a better way to hope. This form of hope is more than just a campaign slogan or a self-help program, it is a call to informed citizen engagement. Schools and universities can cultivate hope in the habits of citizens by nurturing our proclivity to take action.  They can create communities of inquiry that foster critique, nurture deliberation, cultivate imagination, and solve social problems. Those habits of hope can then sustain action within our civil society well past graduation.
Learning how to hope and engaging in hoping together can build trust, grow political agency, and shape an improved American identity.  Hope can animate life in a democracy, moving citizens forward through new challenges, new experiments, and new elections.