Arthur Glenberg, Arizona State University – Embodied Cognition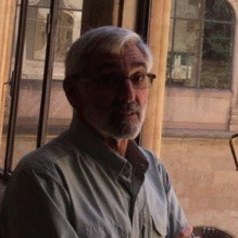 If you want to activate your emotions, start speaking.
Arthur Glenberg, professor of psychology at Arizona State University, looks at why language affects more than just our vocal cords.
Arthur Glenberg is a professor in the Department of Psychology at Arizona State University, an emeritus professor at the University of Wisconsin-Madison, and a member of INICO at the Univeridad de Salamanca. He does basic research in cognitive psychology and cognitive neuroscience with a focus on developing theories of embodied cognition in the areas of language, education, and social processes. In addition, he and his colleagues at ASU have developed an embodied reading comprehension intervention (EMBRACE) for English language learning children in the early elementary grades (see: http://resourcecenters2015.videohall.com/presentations/565.) His work has been funded by NIH, IES, and NSF. Dr. Glenberg has authored a textbook (in its third edition), an edited volume, and over 100 peer-reviewed articles. As of October 2018, these publications have been cited almost 20,000 times with an h-index of 61.
Embodied Cognition

Research on the psychology of language comprehension is starting to have important, real-world implications.  These advances are due to a new approach called embodied cognition.
One principle of embodied cognition is that we use our brain's action, perception, and emotion systems whenever we understand.  Think about the sentence, "Walking along the edge of the cliff, the hiker was shaking with fear."  When we understand a verb like "walking" we use our neural motor system much like when actually walking. Similarly, we use our perceptual system to envision the cliff.  Perhaps most importantly, understanding words such as "shaking with fear" activates our emotional system.
What are the implications? First, some children have poor reading comprehension because they think that reading is simply saying words out loud; these children need to learn how to use their sensorimotor and emotional systems while reading.  We have developed an iPad app called EMBRACE to help.  With EMBRACE, a child moves pictures to act out sentences while she reads.  For example, after reading the sentence about the hiker, the child would move a picture of the hiker along the edge of the cliff while making him shake.
Now consider a second implication of the fact that language activates the motor system and the emotional system. Namely, language can easily result in action.  When we hear an emotional rant of hate speech, it may increase the chances that we act in a hateful manner. Fortunately, when we hear compassionate speech, it may increase the chances of acting compassionately.