Scott Hall, University of Dayton – Emotional Well-Being of Patients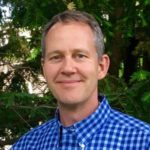 On University of Dayton Week:  Healthcare shouldn't be limited to physical ailments.
Scott Hall, professor of counselor education, determines another important area of treatment.
Scott Hall, professor of counselor education at the University of Dayton, is co-author of Managing the Psychological Impact of Medical Trauma: A Guide for Mental Health and Health Care Professionals. As a partner at Hawthorne Integrative, LLC, a health care consulting and clinical counseling firm, he counsels adults with depression, anxiety disorders, PTSD and divorce-related concerns. Hall also is a certified master trainer in TeamSTEPPS (Team Strategies and Tools to Enhance Performance and Patient Safety), an interprofessional, evidence-based communication training curriculum developed by the U.S. Department of Defense and the Agency for Healthcare Research and Quality, and has received training in mindfulness-based stress reduction from faculty at the University of Massachusetts School of Medicine. He is a veteran of the United States Army.
Emotional Well-Being of Patients

A 40-year-old with two kids is told: You have pancreatic cancer.
A women who lost her mother to breast cancer learns: We found something on your mammogram.
A teen who just finished his first marathon injures himself and will never run again.
Heart attacks, strokes, life-changing diseases — the list of jarring medical experiences that can and do happen goes on and on.
The healthcare industry is prepared to deal with the physical effects of these traumas, but not always the emotional toll.
My co-author, Michelle Flaum Hall, and I created tools that allow doctors to be proactive about protecting a patient's mental health.
The Medical Mental Health Screening helps doctors flag risk factors in patients before surgery or treatment. The patient marks "yes" or "no" on a series of statements. These include, "I have experienced depression at some time in my life" and "I tend to be pessimistic about many things (for example, the future or my health)."
Other tools help monitor a patient's emotional well-being after a procedure. The Secondary 7-Lifestyle Effects Screening also uses "yes" or "no" statements. These include "Since my surgery or diagnosis, I've had to alter my life plan or I've been unable to reach important milestones (for example, delaying graduation or marriage)."
Michelle and I also advocate that doctors bring mental health professionals into the treatment team to ensure a patient's emotional health isn't on the back burner.
It can be difficult for someone to recognize what is happening to them emotionally. Physicians need interventions and strategies in place automatically. This safety net can ensure fewer people who experience medical trauma slip through the cracks of a health care system that can sometimes have a singular focus on caring for the physical body at the expense of all else.