Nina Johnson, Swarthmore College – The Impact of Mass Incarceration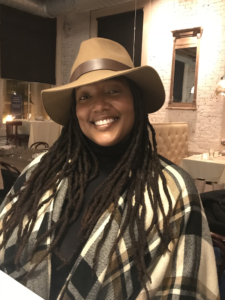 On Swarthmore College Week: Low incomes, high crime rates.  How does a neighborhood change for the better?
Nina Johnson, assistant professor of sociology, says understanding the social aspect of the area can be a good start.
Nina Johnson, PhD is an Assistant Professor in the Department of Sociology and Anthropology and Chair of the Program in Black Studies at Swarthmore College. Her research interests lie in the areas of politics, race, space, class, culture, stratification and mobility. Her book project: Black Privilege: Black Elites in the Age of Obama and Trump revisits Du Bois' and Frazier's classic works and considers issues of identity and meaning making processes among the black elite, its relationship to the larger black population, and its role in any projects of collective racial advancement. Her current project is a multi-method study of the impacts of mass incarceration at the neighborhood level, which is complimented by her teaching in Urban Sociology and public policy using the Inside-Out pedagogy. She wholeheartedly endorses every word of James Baldwin, but finds the following particularly prescient in shaping and informing her work, "The time has come, God knows, for us to examine ourselves, but we can only do this if we are willing to free ourselves of the myth of America and try to find out what is really happening here."
The Philly Neighborhoods Research Team includes: Thomas Cotton, Priya Deitrich, Bryton Fett, Carrie Hutnick, Hana Lehmann, Marco Maldonado, John Pace, Kristine Polizzano, Elise Reynolds and Kempis Songster and is generously funded by the engaged scholarship arm of the Swarthmore College Lang Center for Civic and Social Responsibility.
The Impact of Mass Incarceration

In the United States, 2.2 million people are incarcerated—a 500% increase over the last forty years. These numbers are not evenly distributed across the population. Though people of color are 37% of the US population, they are 67% of the incarcerated population. Low income African American men and women are more likely to be arrested, once arrested more likely to be convicted, and once convicted more likely to be given a harsher sentence. Members of our research team, including undergraduate students and formerly incarcerated graduate researchers are studying the impacts of mass incarceration at the neighborhood level, specifically how residents manage their interactions with police and how they experience the turnover of neighbors leaving for and returning from jails and prisons. 
We are examining neighborhoods in North Philadelphia that have such high costs and rates of incarceration that they are home to what has been termed "million-dollar blocks"—census blocks on which the state is spending upwards of a million dollars to incarcerate its residents. North Philadelphia neighborhoods have the highest incarceration rates in the city and lowest annual incomes, creating an area stricken by poverty and all its attendant effects. That, however, is where our knowledge of these areas ends. To begin to develop a fuller account of the area, we mapped out the social landscape of this region, including schools, community organizations, parks, religious institutions and businesses. Understanding the social schema of these areas allows us to better understand the factors that contribute to higher incarceration rates in these neighborhoods compared to other zip codes. As part of our research ethics of inclusivity, mutuality and reciprocity, our research team is partnering with organizations to gather data AND provide research products useful to the organizations.