Craig Mattson, Trinity College – Better Feeling for a Better World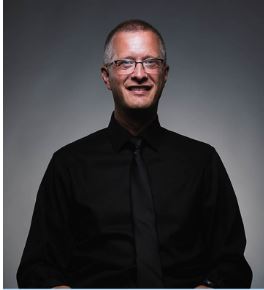 Some companies offer a side dish of positive social impact with each purchase.
Craig Mattson, professor of communication arts at Trinity College, wonders if social problem-solving companies are here to stay.
Dr. Craig Mattson is a rhetorician, and he studies how messages work, how they form relationships, how they create worlds, and how they open possibilities. Recently, he has been studying corporate rhetorics of social responsibility—rhetorics that work collectively, extra-personally, and communally. "Although we tend to think of Christian engagement in late-modern society on an individualistic basis, Trinity compels me to think collaboratively, to practice disciplinary border-crossing, and to constantly seek out the strong but subtle connections that appear wherever humans congregate. I think it's a significant part of the Christian scholarly vocation that we make these connections apparent."
Better Feeling for a Better World

"I'm good." has become the accepted small-talk answer to the question, "How ya doin'?"
But if you're Warby Parker or Smile Squared or Love Your Melon or TOMS or any other social-problem-solving company today, you're good in quite another way.
These companies attempt to make money and social impact simultaneously. Too ambitious? Well, their rapid proliferation suggests that shoppers today engage fervently in social commerce. Disconcerting?  Perhaps for critics who assume that shoppers must be jaded or deceived by messaging that enthuses about big business and bigger altruism. But this assumption fails to align the affect of its critical approach with the affect of the critical object.
How about this as an alternative explanation? Instead of deconstructing the company's model, why not look to the power of the company's mode–that is, its style of engagement?
How does TOMS's "buy-one-give-one" mode, for example, help citizens engage the big problems of our time? Listen carefully to TOMS' marketing, especially in the public discourse of company founder Blake Mycoskie, and you can detect TOMS' reliance upon a trope, a figure of speech, known as metonym. TOMS uses these metonyms to achieve attachments between the doing well of profit and the doing good of provision. That attachment has proven to be a sustainable mode of business-driven problem-solving.
Can such companies help citizen shoppers get a better feeling for making the world better? Perhaps. But modal analysis can also give academics a critical feel for how modes can enable intervention on persistent social predicaments.