Sister Marcella Wallowicz, Holy Family University – Sabermetrics in the Classroom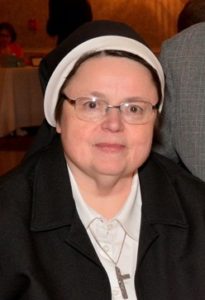 The statistics revolution may not just be for baseball.
Sister Marcella Wallowicz, associate professor of mathematics at Holy Family University, examines using sabermetrics in your classroom as well as the ballpark.
I am an Associate Professor of Mathematics and also the Assistant Dean in the School of Arts & Sciences at Holy Family University. My academic preparation includes:
BA (cum laude) in chemistry from Holy Family University
MA in applied mathematics from Villanova University
Doctoral coursework in pure mathematics at the University of Pittsburgh (research interest: interface of chemistry and graph theory)
PhD in Post-secondary and Adult Education from Capella University (research interest: online delivery of calculus and advanced mathematics courses)
My interest in Sabermetrics began several years ago in working with two senior mathematics majors who were completing their senior research projects. Later, I began taking on summer interns as a result of multiple grants received from the Clare Booth Luce Foundation. The topic of the application of sabermetrics in evaluating employee productivity became appealing.
Sabermetrics in the Classroom

Sabermetrics were introduced by writer, statistician and baseball historian Bill James in 1977 and popularized through the 2011 movie Moneyball which was based on Michael Lewis' 2003 bestseller of the same name. Historically, sabermetrics have been associated with the analysis of a baseball player's performance.  However, more recently sabermetrics have been used in the evaluation of employment productivity in non-sports related occupations such as law enforcement.  The fundamental goal of our research is to develop a comprehensive productivity sabermetric for quantifying faculty effectiveness in higher education similar to the WAR (or Wins Above Replacement) in baseball.
One aspect of faculty effectiveness is teaching effectiveness, which typically is assessed through student, peer and/or dean evaluations. In our study, we identified recipients of the Lindback Distinguished Teaching Award within our consortium and sixty random faculty within the same consortium to compare with the Lindback awardees. Using data from a popular faculty evaluation website we constructed four sabermetrics related to teaching effectiveness: internal quality, external quality, internal difficulty, and external difficulty. 
Results from the study showed that Lindback Award recipients had higher internal and external quality scores and lower internal difficulty scores.  Future directions for our research include the development of sabermetrics quantifying other aspects of faculty effectiveness, namely, research, scholarship and service.