Michelle Watts, American Public University – The Great Broadband Divide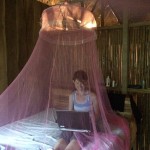 Not everyone is online in our connected world.
Michelle Watts, faculty director and assistant professor in the school of security and global studies at American Public University, examines why some Native Americans still have limited access and how to fix it.
Michelle Watts has a degree in International Studies from American University in Washington, D.C., and a Master's degree in Latin American Studies from the University of Arizona.  She is currently enrolled in the University of Southern Mississippi's International Development Doctoral program.  Ms. Watts' professional experience includes working at the Inter-American Foundation, teaching United States Government and History for Central Texas College, as well as Latin American Studies and International Development courses for Florida State University in the traditional classroom.
Her on-line experience includes Comparative Government for City Colleges of Chicago, American National Government for National Park Community College, and numerous classes for the American Public University System. Ms. Watts has worked with refugees in Washington D.C.; studied in Argentina, Costa Rica and Ecuador; journeyed to Nicaragua with Habitat for Humanity; worked on the US-Mexican border; lived and later conducted research in Panama, and traveled extensively in Latin America. Ms. Watts wrote two encyclopedia entries for Anti-Immigration in the United States: A Historical Encyclopedia. Her co-authored articles include "Seguridad del Canal de Panama: Una Decada Despues de la Salida de Estados Unidos" (Security of the Panama Canal: One Decade after US Departure), published in the Air and Space Power Journal, Spanish ed., "The US and Panama: The Evolution of an Asymmetric Relationship," published in the Delaware Review of Latin American Studies and "Drugs, Thugs, and the Diablos Rojos: Perils and Progress in Panama" in the Latin American Policy journal.  "Game of Norms: Panama, the International Community, and Indigenous Rights" is forthcoming in the Latin American Policy Journal, May 2014.
She continues research with her colleagues and has received five research grants from the American Public University System, currently focusing on issues with indigenous peoples of Latin America.
The Great Broadband Divide

Many Native American nations have limited Internet access.
The size of the Navajo Nation, roughly that of West Virginia, limits connectivity to more densely populated areas and major highways. Much of the basic infrastructure we take for granted was never installed. In fact, more than 30% of homes lack electricity or running water, and over half lack basic landline phone service.
Infrastructure projects have struggled due to the remoteness and expansiveness of the area and the dispersed population which makes efforts to obtain a return on private investment problematic. That lack of infrastructure complicates responding to emergency medical situations, especially for police who are on average responsible for 100 square miles each.
Tribal telecommunications leader M. Teresa Hopkins explained that the FCC and Internet providers often misreport connectivity within tribal territory. In fact, while most of the Nation's 110 chapter houses are near a fiber optic ring, providers charge thousands of dollars to connect them, leaving many with little or no connectivity. 
The Nation has been working to increase member safety by implementing the FirstNet communications system within their lands and applauded passage of legislation to expand emergency alerts to territory previously excluded.  However, without increased connectivity, FirstNet will not work as intended.
Thus, the Navajo are being creative in gaining Internet access.  Rather than imposing penalties on unregistered service providers operating on Navajo territory, they are incentivizing offenders to install and enhance broadband services.  The Navajo Nation is working to pool their resources with providers  to produce a robust system, providing for greater safety and reduced isolation.