Elizabeth Anderson, Florida International University – Dams Are Changing Amazonian Rivers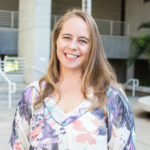 New dams in the Amazon could threaten ecosystems.
Elizabeth Anderson, assistant professor in the department of earth & environment at Florida International University, describes the challenges of new dams changing the flow of rivers in the basin.
I received my PhD from the Odum School of Ecology at the University of Georgia. I'm originally from the outskirts of Atlanta, GA. I had my first field experiences working in the extraordinary streams of the southeastern USA. But since 1998, my geographic focus has been mainly on tropical and subtropical rivers. I'm interested in the relationships between river flow and ecology, and river flow and riparian human communities. My research explores these topics in the Andes-Amazon and East Africa regions.
Dams Are Changing Amazonian Rivers

THE PRIMARY SOURCE OF FOOD FOR 30 MILLION PEOPLE IS BEING THREATENED BY THE RAPID DEVELOPMENT OF HUNDREDS OF DAMS ACROSS THE AMAZON BASIN.
I WORKED WITH AN INTERNATIONAL TEAM OF RESEARCHERS TO DETERMINE THE IMPACT OF THE 142 DAMS EITHER IN PLACE OR UNDER CONSTRUCTION AND THE 160 MORE THAT ARE PLANNED.
THE PROPOSED DAMS ON AMAZONIAN RIVERS COULD RESULT IN SIGNIFICANT LOSSES IN RIVER CONNECTIVITY, THREATENING FISH POPULATIONS AND FOREVER CHANGING RIVER CHANNELS AND FLOODPLAINS.
OUR TEAM COLLABORATED WITH LOCAL GOVERNMENTS AND CONSERVATION ORGANIZATIONS TO COMPILE INTERNATIONAL DATA ON THE DAMS – ASSEMBLING THE MOST COMPREHENSIVE DATABASE OF DAMS IN THE ANDEAN-AMAZON REGION.
THE RESULT IS A SYSTEM-WIDE LOOK AT THE OVERALL IMPACT, WHICH PRESENTS A VERY DIFFERENT PICTURE THAN WHEN ASSESSING IMPACT OF INDIVIDUAL DAMS ON INDIVIDUAL SYSTEMS.
WE HOPE THAT BY SHOWING REGIONAL TRENDS AND THAT WIDESPREAD RIVER ALTERATION IS HAPPENING, OUR RESEARCH WILL LEAD TO MORE COORDINATED DEVELOPMENT, HIGHLIGHTING THE IMPORTANCE OF KEEPING SOME RIVERS FREE-FLOWING IN THE AMAZON.
EVEN THOUGH THE ANDEAN AMAZON IS ONLY A SMALL PORTION OF THE ENTIRE AMAZON BASIN, IT REALLY IS IMPORTANT TO THE WHOLE SYSTEM.  THE MAJORITY OF THE SEDIMENTS AND NUTRIENTS AND WATER THAT FEEDS THE LOW-LAND AMAZON COMES FROM THE ANDES.  
SEVERAL THOUSAND SPECIES OF FISH ALSO LIVE IN THE BASIN, MANY OF WHICH MIGRATE FROM THE LOW-LANDS TO THE ANDES FOR SPAWNING.
A LOT OF EXISTING DAM PROJECTS ARE ON TRIBUTARIES. BUT MANY PROPOSED PROJECTS WILL BLOCK THE MAIN STEMS. IF THEY CONTINUE, ALL BUT ONE OF THE EIGHT MAJOR ANDEAN AMAZON RIVER SYSTEMS COULD BE DAMMED UP.
TODAY, MOST OF THE MAINSTEMS OF THE ANDEAN AMAZON RIVERS RUN FREE. WE HAVE A BIG OPPORTUNITY TO PRESERVE THEM. TO DO SO, RIVERS SHOULD BE THE FOCUS OF A NEW FRONTIER IN ENVIRONMENTAL CONSERVATION IN THE AMAZON.