Edward Shannon, Ramapo College – Woody Guthrie, Charles Schulz and a Comic Book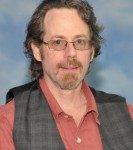 What do comic books, Woody Guthrie and Charles Schulz have to do with each other?
Edward Shannon, professor of literature at the Ramapo College of New Jersey, describes an interesting time in comic book history and how all these pieces fit together.
Edward Shannon is a Professor of Literature at Ramapo College of NJ, where he teaches courses in American Literature and has served as the Convener of the Literature Major. He has published several articles on Woody Guthrie and was named a 2005 Woody Guthrie Fellow by the Woody Guthrie foundation. He is currently working on a book about Guthrie.
Woody Guthrie, Charles Schulz and a Comic Book

In January 1948, folksinger Woody Guthrie, his career near its end, was still writing. He composed two works that month, both unpublished during his lifetime. His song "Deportee" was later covered by scores of artists. His magazine article, "Comics that Ain't Funny," responds to 1947 comic book, Is This Tomorrow: America Under Communism, a cautionary apocalyptic tale of the US after communist revolution.
At the time, parents and teachers feared that comics encouraged crime, ruined eyesight, and preached fascism. 1943's The Teacher and the Comics from Minnesota's Catechetical Educational Society describes a bizarre scene. "Fifth grade pupils [ . . .], staged [a] mock funeral [ . . .]" (Lynn 1943: 28). The children shredded their comics, "placed [them] in caskets, lowered [them] into graves [ . . .] burned [them], [and] covered the remains with dirt" (Lynn 1943: 28).
Despite such grim efforts, a smoldering paper trail still exposes unlikely coincidences. Catechetical Society comics censors became comics propagandists, publishing millions of copies of Is This Tomorrow. One ended up in the hands of Woody Guthrie, who looked in vain for "the name of the artist" (Guthrie 1948b: 2). Remarkably, the Society had hired a then-unknown Minnesota cartoonist, Charles Schulz, who anonymously "letter[ed] [ . . . ] dialogue [ . . . ] in English [ . . . ], Spanish, and French editions" and "[drew] the climactic panels of Is this Tomorrow" (Michaelis 2007: 167) three years before creating Peanuts.
"Comics that Ain't Funny" speaks from an era of anti-comics and anti-communist hysteria. Guthrie and Schulz cross paths for just a second, one artist receding the other emerging: two American icons in a world of comics censorship ready to explode in the 1950s.