Ray Raymond, SUNY Ulster – Avoiding Intelligence Blind Spots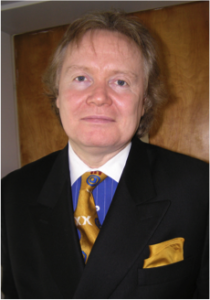 There has been a lot of chaos in the U.S. government under the current administration.
Ray Raymond, professor of government and history at the State University of New York Ulster, discusses how the country can avoid pitfalls in future intelligence decisions.
​​Dr. Ray Raymond is a former British diplomat who held a Post-Doctoral Fellowship at Yale University in American History. He is Associate Professor of Government and History at SUNY Ulster and also teaches government and politics at the United States Military Academy, West Point. In addition, Dr. Raymond is a regular visiting lecturer at the US Air Force Academy and Fellow of the Pell Center for International Relations and Public Policy. He is currently working on a new biography of John Jay as well as a collective biography of five recipients of West Point's Ninninger Medal, the Academy's equivalent of the Medal of Honor. Dr. Raymond has been honored by Her Majesty Queen Elizabeth II and by the Chief of Staff of the United States Army for his contribution to the development of the academic program at West Point.
Avoiding Intelligence Blind Spots

Today, our lives and livelihoods depend in large measure on what happens around the world. We cannot afford blind spots.   To avoid them, we have to invest carefully and strategically in our nation's intelligence capability, so we can anticipate, understand, and carefully weigh all the challenges that face us. 
To avoid blind spots, our research suggests that two key elements of communication need to exist within the policy process. First, the intelligence community must be able to produce accurate, actionable timely intelligence; second, those in key policy positions need to be intellectually prepared to listen and assess what the intelligence community says.
To accomplish this, we need to remember the essential characteristics about the relationship between intelligence and policy making.  Intelligence is inherently replete with uncertainties and ambiguities and it should never be politicized. The intelligence community must be free to offer its candid assessments without political pressure or have its product filtered through the prism of partisan politics. 
It's also important that debate within the intelligence community should be encouraged, rather than discouraged. The Director of National Intelligence and the President's National Security Advisor have a responsibility to ensure that multiple perspectives are aired and understood, not filtered out to present a more simplistic or biased picture to the President. 
And although technical intelligence from electronic intercepts is critical, there is no substitute for human source intelligence. Only this can take us inside the minds of adversaries and give us a better understanding of their intentions.  
Finally, the recipients of intelligence must be willing to listen, while suspending – at least temporarily – their own preconceived notions of reality. All policy makers have filters through which they receive intelligence, but they must be prepared to set those filters aside to consider fully the information brought to them.