Dorian Borbonus, University of Dayton – Digging for History in Rome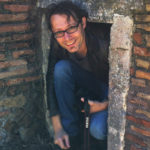 How do we uncover unheard voices from the past in a thriving modern city?
Dorian Borbonus, associate professor of history at the University of Dayton, looks into the long past of Rome to find out.
Dorian Borbonus is an associate professor of history at the University of Dayton. He teaches courses in ancient Greek and Roman history. Borbonus was a contributing author on the Mapping Augustan Rome project and has written a book on Columbarium Tombs, enigmatic tombs in Rome that resemble the more familiar catacombs. His current research project is on the development of funerary culture in imperial Rome. Borbonus spent the 2016-17 academic year as a Rome Prize Fellow at the American Academy in Rome to carry out the research underlying this new book. The goal of this project is to create a narrative of historical change in the imperial capital that is based primarily on material culture.
Digging for History in Rome

An ancient tombstone from Rome reads: "To Lucius Clodius Polytimus, an ideal and well-deserving patron. His freed slave Persicus made this."
It may strike us as odd today that someone who had experienced slavery firsthand would be so dedicated to a slave owner, of all people. But 2,000 years ago, this was fairly common. Slaves belonged to the household and playing the role of a family member may have been beneficial for Persicus.
Inscriptions like this are important for historians, because they allow us to hear the voices of people who are underrepresented in more famous historical texts. The way people are buried can thus help us recover something about their lives. There is a problem though: in a global city like Rome, our knowledge of burial is limited to a few pockets of evidence.
There are various strategies to address this problem: one of them is to use computers to reconnect the many data points.With the latest equipment and software, it is possible to create three-dimensional models of entire cemeteries and their surroundings. Using virtual reality headsets, this recreated landscape can even be experienced firsthand.
Another method is to trace broad developments over time. For example, the tombs that Romans build once emulated the mounds of the Etruscans, the temples of the Greeks or even the pyramids of the Egyptians. Ultimately, however, a typically Roman kind of tomb started to outnumber the other types. Could this reflect the emergence of a "national" culture?
Whatever the answer, connecting the dots in this way will ultimately provide an appreciation of what it meant to live – and die – in the capital of an ancient empire.