Elizabeth Tippett, University of Oregon – Employers and Sexual Misconduct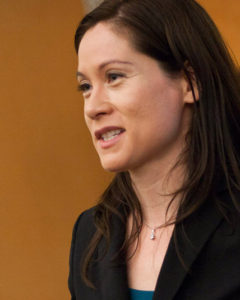 Employers can rely too much on law enforcement to handle employees accused of misconduct.
Elizabeth Tippett, associate professor in the school of law at the University of Oregon, discusses why employers should be prepared to act without outside assistance.
​​Professor Tippett researches business ethics, employment practices, and decision-making.  Her most recent research, published in the Yale Journal of Law & Technology, examines how employee timekeeping software can erode compliance with wage and hour laws.  A follow up study, which analyzes 300 wage and hour cases alleging digital wage theft, will be published in the American Business Law Journal.  Other recent research projects examine arbitration agreements in the sharing economy, and employee harassment trainings.
Professor Tippett also studies drug injury advertisements, which recruit consumers for lawsuits against pharmaceutical companies.  In June 2017, Tippett testified before a subcommittee of the House Judiciary Committee about how these ads may affect patient decision-making.  Her empirical studies on drug injury advertising have appeared in the American Journal of Law and Medicine, and Drug Safety, and a forthcoming study will be published in the medical journal, Urology.
Professor Tippett is a co-author of the Fifth Edition of the West Academic textbook, Employment Discrimination & Employment Law: The Field as Practiced, along with Samuel Estreicher & Michael Harper.  Her research on disparate impact litigation was cited in two opinions from the United States Court of Appeals and by the Iowa Supreme Court.  Her research on trade secrets was cited in a recent decision by the Delaware Superior Court.
Her writing for public audiences has been republished in The Washington Post, The New Republic, Huffington Post, Newsweek, Fast Company, Slate, and The Daily Beast, among others.  She has also appeared on the BBC, National Public Radio, Sirius Satellite Radio, and Oregon Public Radio.
Professor Tippett is the Faculty Co-Director for the Master's Program in Conflict and Dispute Resolution.  She spent several years as a research associate for the Harvard Negotiation Project, working with Professor Emeritus Roger Fisher, co-author of Getting to Yes, and teaching various negotiation-related courses for students and practitioners.
Before joining the faculty, Professor Tippett was an employment law attorney at Wilson Sonsini Goodrich & Rosati.  Professor Tippett earned her law degree at Harvard Law School in 2006.
Employers and Sexual Misconduct

In the news, we've heard a lot about employers being asleep at the switch when someone is accused of misconduct in the workplace. For example, the MeToo movement revealed that several prominent men had a history of harassment that went unaddressed. 
We also saw that during the Larry Nassar scandal, the U.S. gymnastics doctor convicted of sex crimes.  Victims say they tried to alert his employer for years before he was publicly exposed.
Why don't employers do more? 
You might assume that it comes down to a 'he said, she said' situation, where the employer doesn't know who to believe.  But when I looked at legal cases involving employees accused of mistreating children, that generally was not the case. 
More commonly, everyone more or less agreed about what happened.  Instead, they disagreed about the meaning of the conduct.  And the discipline that should result.
In these cases, it seemed as though employers relied too much on legal rules and law enforcement to guide their decisions.  This left them unprepared for situations when law enforcement decided not to act.  Or where the conduct was technically legal but still problematic.
Instead of sticking their heads in the sand, employers should assume these situations will come up.  And invest the time and effort to decide in advance what behaviors won't be tolerated.  And then back up those rules with action.
Employers have a lot of power because they get to decide who has access to the workplace and the people you serve.  Sometimes, exercising that power wisely means cutting off someone's access if they prove to be untrustworthy.