Rebekah Piper, Texas A&M University San Antonio – Multicultural Education and Literacy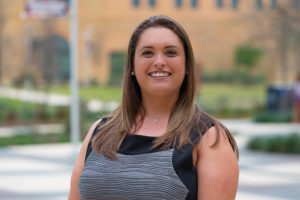 Classic stories aren't always in the interest of all students.
Rebekah Piper, assistant professor of literacy at Texas A&M University – San Antonio, looks into diversifying the curriculum to fit a diverse student body.
Rebekah E. Piper earned her Ph.D from the University of Nevada Las Vegas in Curriculum and Instruction with an emphasis in literacy education and Cultural Studies International Multicultural Education (CSIME).  Prior to earning her doctorate, Dr. Piper was a kindergarten teacher in Historic West Las Vegas where she had a unique connection with children, families, and the community. She also has served as a consultant for the Children's Defense Fund Freedom Schools Program; training multiple young adults to work with children during a six-week summer literacy program across the United States. Her primary research interests include pre-service teacher education, children's literature, multicultural education, identity development, and early literacy development.
Dr. Piper teaches undergraduate and graduate course work in literacy education and serves her community by working with organizations that promote literacy and service.
Multicultural Education and Literacy

New teachers in America's K-12 schools are too-often provided with scripted and one-size-fits-all curricula that do not include a wide range of differentiation for student diversity. This leaves little room for teachers to promote critical appreciation for differences among students, much less to affirm these differences though their own creative teaching practices.
When teachers lack understanding of diversity issues it can negatively affect the educational success of their students.
A large achievement gap between African American and Latino students compared to White American students exists in our schools. Various studies have documented the gap, but there has not been much success in closing it.
Our recent qualitative, multiple-case study of seven Black students, aged eight to twelve years, was undertaken in the context of a summer literacy program. Data sources included a demographic survey, pre- and post-classroom activity interviews, and classroom observation.
We launched the research project in an urban school where teachers had noted that, in discussions, many students were not able to recall much about the literature they had read. Though the school serves a diverse student body—93 percent of the students enrolled there are children of color—neither the assigned reading nor the books in the school library reflected multicultural themes. Our reading assignments specifically focused on people, stories and accounts of the American Civil Rights movement.
The students responded to books–they remembered story lines, characters and other key information–when presented with literature with themes that were more familiar to their lives.
Students became more engaged and engaging, provided thoughtful analysis and often used a critical lens and even questioned what was being presented in the texts as they recalled specific people and events typically in great detail. Parents were also interviewed, as part of our research.
Recognizing that the educational system—both Pre K-12 and higher-ed.—is growing more, not less, diverse, the success of this increasingly diverse student population is even more important to the success of the nation.
Preparing teachers to integrate multicultural content and pedagogy across the curriculum is one means of addressing the learning gap that exists between White students and students of color.