Joseph Fins, Cornell University – Secret Memo Shows Bipartisanship during Watergate Crisis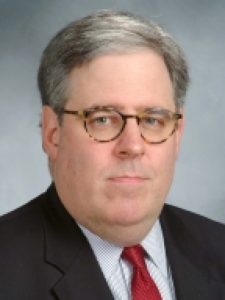 Bipartisanship during a crisis seems unlikely in today's political climate.
Joseph Fins, professor of medical ethics at Cornell University, details a situation from our past that shows how leaders can work together in tough times.
Dr. Joseph J. Fins is The E. William Davis, Jr. M.D. Professor of Medical Ethics and Chief of the Division of Medical Ethics at Weill Cornell Medical College where he also serves as Professor of Medicine (with Tenure), Professor of Public Health and Professor of Medicine in Psychiatry. He is also an Attending Physician and the Director of Medical Ethics at New York-Presbyterian Weill Cornell Medical Center and on the Adjunct Faculty of Rockefeller University where he is a Senior Attending Physician at The Rockefeller University Hospital. Dr. Fins is an elected Member of the Institute of Medicine of the National Academy of Sciences (USA) and was elected a Fellow of The American Academy of Arts & Sciences in 2012.
A recipient of a Robert Wood Johnson Foundation Investigator Award in Health Policy Research, Dr. Fins has also received a Soros Open Society Institute Project on Death in America Faculty Scholars Award, a Woodrow Wilson National Fellowship Foundation Visiting Fellowship and support from the Dana, Buster and Katz Foundations. He was appointed by President Clinton to The White House Commission on Complementary and Alternative Medicine Policy and currently serves on The New York State Task Force on Life and the Law by gubernatorial appointment.
Dr. Fins graduated from Wesleyan University (B.A. with Honors, The College of Letters, 1982) and Cornell University Medical College (M.D., 1986). He completed his residency in Internal Medicine and Fellowship in General Internal Medicine at The New York Hospital-Cornell Medical Center and has served as Associate for Medicine at The Hastings Center.
Secret Memo Shows Bipartisanship during Watergate Crisis

It was the height of Watergate and the Democratic speaker of the House, Carl Albert, needed advice. With Vice President Spiro Agnew's resignation, and the Nixon presidency imperiled, Albert was suddenly next in line to become president.
Looking for advice, Albert turned to Ted Sorensen, JFK's alter ego and Democratic sage.
Dated Nov. 8, 1973, and marked "personal and confidential", Sorensen wrote Albert, "I admire your recognition of the need for advance planning of this kind … " Sorensen went on to suggest that the memo be destroyed lest it "might be misinterpreted as evidence of an improper motivation on your part for the President's ouster."
And then this startling statement: "NOTE: I question whether it is either necessary or desirable to commit yourself to resigning in favor of a Republican Vice President. That would only heighten the impression of political instability in our government. You are the legitimately chosen successor selected by our most representative body under a long-standing plan adopted by the Legislative Branch."
One doesn't need to be a history buff to grasp the significance of Sorensen's admonition. It implies Albert was considering resigning the presidency so Nixon's removal wouldn't look partisan. From the vantage point of our current political tribalism, it is inconceivable that a Democrat would even think of forgoing the presidency in favor of a Republican. But this is what the historical record shows.
It would be a mistake to view the Sorensen memo with historic sentimentality, simply a relic of a bygone era of bipartisanship. Drafted during the searing schism of Watergate, it has relevance for our own times. Speaker Albert's example shows that true patriotism crosses the aisle and is seldom narrowly partisan. Hopefully, this is a lesson that his successors in the Congress will heed.
History will be their judge too.
Read More:
[The Conversation] – Secret memo shows bipartisanship during Watergate succession crisis