Greg Hall, Case Western Reserve University – Tattoo Regret and Health Issues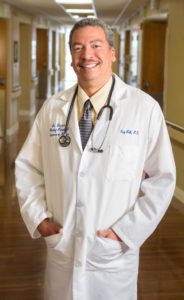 Tattoos are common, but also pose a health risk.
Greg Hall, assistant clinical professor at Case Western Reserve University, determines how toxic getting inked can be.
Dr Greg Hall, is a primary care physician practicing in Cleveland, Ohio for over 20 years. A product of Cleveland public schools, he attended Williams College and majored in psychology while taking pre-medical coursework.
After graduation from Williams College with a bachelor's degree in psychology, and working summers as a research assistant at the Cleveland Clinic, he attended the Medical College of Ohio, and completed residency in Internal Medicine at the Cleveland Clinic Foundation.
Greg Hall serves on the clinical teaching faculty at Northeast Ohio Medical University College of Medicine as well as CWRU School of Medicine and has an appointment of Assistant Clinical Professor at both schools.  He has co-chaired the City of Cleveland's Public Health Advisory Committee, and co-chaired the leadership board of Steps to a Healthier Cleveland which oversaw health awareness and improvement activities throughout the area.
Tattoo Regret and Health Issues

Almost half of people between age 18 and 35 have tattoos according to a 2016 Harris Poll.  With such a large number getting inked, it is surprising the lack of awareness of the potential medical issues with tattoos.
The Danish Environmental Protection Agency found certain tattoo inks can be toxic, with some containing carcinogenic or "cancer-causing" compounds. Likewise an Australian government-sponsored study found one in five tattoo inks contained cancer-causing chemicals, and a vast majority of the inks tested did not comply with international health safety standards for ink composition. Even more concerning, carcinogens were identified in over 80 percent of black inks – with black ink being by far the most popular color for tattoos.
The European Society of Tattoo and Pigment Research found barium, copper, mercury and other unsafe components in tattoo inks. Their research also found a disheartening mismatch between the listed ink container contents, and its actual chemical composition found on testing.
Aside from the ink risks, there are a number of infectious risks associated with tattooing with the risk of hepatitis C being the most prominent.  Hepatitis, which is 10 times more infectious than HIV, can be transmitted through needles used by tattoo artists.  A recent report by liver specialists found that "tattoo exposure is associated with hepatitis C virus infection, even among those without traditional risk factors." They go on to say that "All patients who have tattoos should be considered at higher risk for HCV infection"
With such a large number considering tattoos at a young age, making sure that people are aware of the health issues that tattoos could present may help them avoid tattoos they may later come to regret.