Brett Hendrickson, Lafayette College – Latinos and the U.S. Catholic Church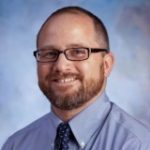 The Catholic Church will soon have a Latino majority congregation.
Brett Hendrickson, associate professor of religious studies at Lafayette College, looks to understand more of the culture and heritage of these church goers.
Brett Hendrickson is an associate professor of religious studies at Lafayette College, where he studies and teaches on religion in the Americas, Mexican American religion, healing, and cross-cultural religious change. He is especially interested in Latino popular religious devotions, the history of religion in the U.S. Southwest, religion and healing, and religion in public life. He is the author of The Healing Power of the Santuario de Chimayó: America's Miraculous Church and Border Medicine: A Transcultural History of Mexican American Curanderismo, both published by NYU Press in 2017 and 2014, respectively.
Latinos and the U.S. Catholic Church

The Santuario de Chimayó in the village of Chimayó in northern New Mexico is the most visited site of Catholic pilgrimage in the United States. Besides being a signal example of adobe church architecture, what makes the Santuario unique is the hole in the floor of one of its side chapels. For over two hundred years, devotees have traveled to the Santuario to gather the dirt from this hole for its alleged healing properties. Legends abound as to the origin of the holy dirt of Chimayó, but the most common recounts the experiences of Bernardo Abeyta, a Spanish landowner in the area who discovered a crucifix buried in a hole in one of his fields. After several miraculous encounters with the crucifix, Abeyta and local Catholic officials decided to build a church around the hole from which crucifix emerged. A pilgrimage to gather blessed dirt from the hole soon emerged.
In the mid-twentieth century, the relatively concentrated pilgrimage to the Santuario grew exponentially. Today over 300,000 pilgrims, tourists, and others visit the church and its ground every year. Approximately 30,000 alone come walking through the New Mexican high desert to the Santuario on Good Friday as an act of devotion.
My research at the Santuario—both in historical archives and through fieldwork at the site—reveal an essential chapter in North American religious history. Demographic changes in the United States insure that Latinos will play an increasingly important role in the religious and cultural life of the nation. In fact, many surveys indicate that the U.S. Catholic Church will soon be majority Latino in make-up. Understanding Latino religious history provides crucial insight into America's largest minority community.