Billy J. Stratton, University of Denver – Literature as Witness in Hollywood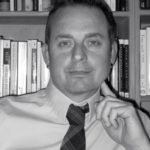 We've seen this script in Hollywood before.
Billy J. Stratton, associate professor of English at the University of Denver, explores how literature has been warning about sexual violence in Hollywood for decades.
Dr. Billy J. Stratton is an associate professor in the Department of English where he teaches contemporary Native American/American literature, critical theory, film studies, and writing. He is a former Fulbright fellow to Germany whose criticism, fiction, commentary, and editorial work has appeared or is forthcoming in numerous books and journals including, Arizona Quarterly, Cream City Review, Salon, The Journal of American Culture, The Independent, Wicazo-Sa Review, Common-place, Rhizomes, Big Muddy, The Los Angeles Review of Books, and TIME. He is also the author of Buried in Shades of Night: Contested Voices, Indian Captivity, and the Legacy of King Philip's War, while being contributing editor to The Fictions of Stephen Graham Jones: A Critical Companion. He was born and raised in Eastern Kentucky and is currently at work on a fiction project on the social, historical, and environmental impacts of coal mining set in the region. He has been instrumental in efforts to create dialogue and historical understanding at the University of Denver around the issue of Sand Creek. Follow him @BillyJStratton.
Literature and Witness in Hollywood

The revelations and outpouring of stories about Harvey Weinstein and other prominent figures in Hollywood detail a culture of pervasive sexual violence.  This is not new. The women who have courageously come forward to tell their stories has brought to the surface what has long been common knowledge about the Hollywood image factory. At the same time, Los Angeles, as home to the American movie industry, is commonly associated with glamour, wealth and fame. In the American imagination, beckoned by the iconic Hollywood sign in the Santa Monica Mountains, it has become synonymous with the American Dream. As a result, such stories may come as a surprise to some, but for readers of fiction focused on the movie industry, they are all too familiar.
Hollywood's dark underbelly has been exposed, for example, in novels written by F. Scott Fitzgerald, Evelyn Waugh, Gore Vidal, and Joan Didion, but few have delved deeper into this corruption and vice than Nathanael West, in The Day of the Locust, and Bret Easton Ellis in Less Than Zero and The Informers. Punctuated by people who "have gone to California to die," and the recurring phrase, "Disappear Here," the events depicted in these works suggest that dehumanization and sexual violence are built into the very fabric of Hollywood's being.
Besides the exposure of such issues to wider audiences and the cultivation of a greater sense of empathy, such texts also give substance to Kenneth Burke's notion that literature can offer a way of addressing social problems by teaching what he called, "strategies for dealing with situations." An implicit function of all literature, he asserts, was to give readers opportunities to imagine how they'd respond to complicated scenarios. Thus, through literature, we can gain an "equipment for living," a means to help navigate our daily experiences.