Ray Raymond, SUNY Ulster – The U.S. and U.K.'s Special Partnership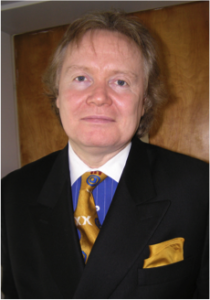 The U.S. and UK have enjoyed a strong relationship for centuries.
Ray Raymond, professor of government and history at the State University of New York Ulster, explains the reasons for keeping such close ties with our friends across the pond.
Dr. Ray Raymond is a former British diplomat who held a Post-Doctoral Fellowship at Yale University in American History. He is Associate Professor of Government and History at SUNY Ulster and also teaches government and politics at the United States Military Academy, West Point. In addition, Dr. Raymond is a regular visiting lecturer at the US Air Force Academy and Fellow of the Pell Center for International Relations and Public Policy. He is currently working on a new biography of John Jay as well as a collective biography of five recipients of West Point's Ninninger Medal, the Academy's equivalent of the Medal of Honor. Dr. Raymond has been honored by Her Majesty Queen Elizabeth II and by the Chief of Staff of the United States Army for his contribution to the development of the academic program at West Point.
The U.S. and U.K.'s Special Partnership

Since World War II, the United States and Britain have enjoyed a truly special relationship. What has held that relationship together?
Our research suggests 7 elements:
First, the US and UK  have shared a common commitment to a liberal world order based on individual liberty, democratic government and the rule of law.
Second, we have enjoyed a unique intelligence relationship sustained by a network of institutions and consultative relationships established by Roosevelt, Churchill and Truman. The famous Enigma code-breaking success during World War II is but one example of this partnership which has continued in secret addressing a range of global security threats.
Third, we have enjoyed a strong military partnership dating back to World War II and the Cold War. Since 1991, for example, US and British armed forces have fought alongside each other against common adversaries to great effect.
Fourth, we have enjoyed a close diplomatic relationship which has given the United States a proxy seat in the European Union's decision-making. British influence has helped keep the EU less insular and more willing to support  US foreign policy.
Fifth, we have a shared legacy with nuclear weapons. Together during World War II we built the first atomic bombs and today the US and Britain deploy identical Ohio class submarines armed with Trident missiles. This is a relationship of unprecedented intimacy that provides the nuclear component of NATO's deterrence strategy.
Sixth, we invest more in each other's economy's than any two other countries. The UK remains America's biggest foreign investor and vice versa.
Finally, the United States and Britain are like a family in that we can overcome even the most passionate disagreement and move forward together united by our commitment to each other and because no other alternative is conceivable.