Brian Johns, Cornell College – Virtual Reality Practice for Doctors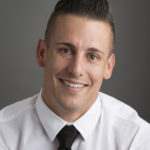 Video games might improve your next surgical procedure.
Brian Johns, assistant professor of engineering at Cornell College, explains how virtual reality environments can help doctors practice when real-life does not allow.
Brian Johns teaches courses covering a range of engineering topics, including design principles, mechanics, thermodynamics, and materials at Cornell College in Mount Vernon, Iowa. He also teaches upper-level electives and the engineering capstone course. He is a member of the Institute of Industrial and Systems Engineers (IISE) and the American Society of Mechanical Engineers (ASME). Johns has a Ph.D. in Industrial Engineering and M.S. in Mechanical Engineering from the University of Iowa.
Virtual Reality Practice for Doctors

In a world filled with video games, smartphones, and tablets, we can find ways to use technology to solve real-world problems.
Virtual reality is a field that's expanding. It allows people to interact with computer-generated, 3-D environments.
I became curious about how this technology and engineering could be used in the medical realm.
Doctors often learn during their residencies on actual people, with tremendous risks as they learn. The most recent studies attribute 200,000 – 400,000 U.S. deaths per year to medical errors, which would rank medical errors only behind heart disease and cancer as the leading causes of death in the U.S. My research team is working to create a virtual reality surgical simulator that will allow surgeons to practice a procedure without the risk and without the costs associated with the training.
We are developing a virtual reality operating room to conduct an implant of a hip fracture repair device. We know these devices fail around 16-23% of the time, with a majority of the failures caused by incorrect drilling. So, we used software to animate the virtual operating room, with the patient, the x-rays, and the equipment needed for the surgery to mimic the procedure happening in real life. 
We also incorporate synthetic bone for the doctors to hold in their hands. I compare this to a batting cage in baseball. In the batting cage, you can hit or miss the ball without any drawbacks. Your goal is to improve. This works the same way.
This is a long-term project, but my student and I expect to get this into the hands of doctors for testing and feedback. We're hoping for a win-win for patients who will see fewer failures and for doctors who will get more training on a surgical procedure that requires patience and practice.