The Academic Minute for 2017.11.20-11.24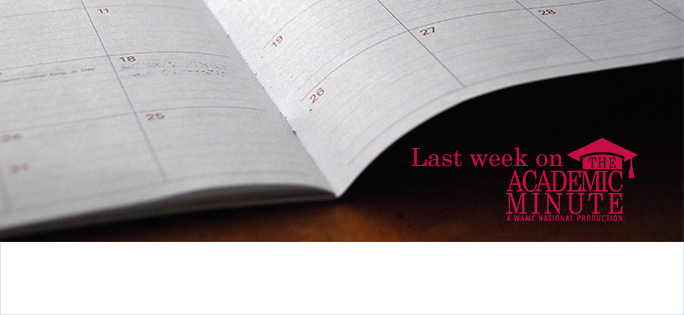 Academic Minute from 11.20 – 11.24
Monday, November 20th
Kate Gawlik – The Ohio State University
Social Smoking
Kate Gawlik graduated with her Doctorate of Nursing Practice in 2015 and is board certified as an adult and family nurse practitioner. Kate is an Assistant Professor of Clinical Nursing at The Ohio State University. She teaches in both the undergraduate and graduate nursing programs. Kate's area of expertise is cardiovascular population and preventive health. Kate has been working with the national Million Hearts initiative for 5 years and designed an educational module that has led to the screening and education of over 58,000 people nationwide. Kate was awarded the 2013 Outstanding Faculty Award and the 2017 Outstanding Leadership/Transformer award. Kate serves as the Project Manager for the Million Hearts® initiatives at OSU's College of Nursing.
Tuesday, November 21st
Daina Harvey  – College of the Holy Cross
Beer and the Environment
Daina Cheyenne Harvey earned a B.B.A (Finance) and a Double B.A. (Philosophy and Economics) from the University of Texas-Austin and a M.A. (Sociology) from the University of Houston. He received his Ph.D. in Sociology from Rutgers University in 2013. For his dissertation he worked with a consortium of non-profits and community groups in the Lower Ninth Ward in New Orleans after Hurricane Katrina and the federal levee failures. He is currently writing a book tentatively titled Anthropocene Demos: Neoliberal Disorder and the Long-Term Lessons of Hurricane Katrina based on this research. This book explores the concept of ecological citizenship as a way to rectify democratic exclusion in the anthropocene. Its focus is on the experiences of residents of the Lower Ninth Ward with participatory democracy amidst the neoliberal setting of the long-term aftermath of Hurricane Katrina.
With Ellis Jones he is also working on a study of the craft brewing industry in New England. Another project looks at how farms, forests, fisheries, and foragers are dealing with climate change in New England.
Wednesday, November 22nd
Joshua Schrier – Haverford College
Dark Reactions
Joshua Schrier is an Associate Professor of Chemistry, and Department Chair at Haverford College, a small private liberal arts college near Philadelphia, USA. He received bachelor's degrees in chemistry and biochemistry from St. Peter's College and a PhD in theoretical physical chemistry from the University of California at Berkeley.  He was the Alvarez Postdoctoral Fellow in Computational Sciences at Lawrence Berkeley National Laboratory before joining Haverford College in 2008.  At Haverford, he has been the recipient of the Dreyfus Teacher-Scholar Award, a Fulbright Scholar, and Cottrell Scholar, among other awards.
His research interests include simulation- and data-driven materials design problems.  Past research projects have included simulation-based design of materials for inorganic nanostructures, organic semiconductors, gas separation membranes, and battery materials.  One current research effort is as co-PI of "The Dark Reactions Project" an effort to build archive failed inorganic synthesis reaction data and build machine learning models that facilitate the synthesis of novel organic-inorganic hybrid materials, such as amine-templated metal oxides and organohalide hybrid perovskites.  Another current research effort is the use of high-throughput automated syntheses combined with machine learning tools to discover new solid state materials.  His teaching interests pertain to educating undergraduate chemistry students in computational and data- methods.  He is also the author of Introduction to Computational Physical Chemistry (2017).
Thursday, November 23rd
Alejandro Gugliucci – Touro Unviersity California
Sugar and Fatty Liver Disease
Dr. Alejandro Gugliucci is a founding faculty member at Touro University, California, USA which he joined in 1997. He earned his MD and Board Certification in Laboratory Medicine from the University of the Republic, Uruguay. He obtained his PhD in Biochemistry at the University Louis Pasteur of Strasbourg, France. His postdoctoral fellowship in Cell Biology was carried out at the University of Montreal, Canada, where he also worked a few years as a faculty member before moving to the USA.
In his alma mater he was a professor in the Biochemistry and Clinical Pathology departments where he was Head of the Lipoprotein Metabolism division at 20-floor, 800 bed hospital for more than 10 years. He was a visiting professor in Tokyo Juntendo University and Niigata Medical School, Japan in 1998 and at the University of Sao Paulo, Brazil in 2007. He has been Full Professor of Biochemistry for the past 8 years. He served as COM Research Director then Associate Dean for Research for the past 10 years leading the exponential growth of research at TUC, the most significant in the Touro College system. He has been recently appointed as University Director of Research Development and Sponsored Programs.
Friday, November 24th
Travis Bailey – SUNY Geneseo
Conquering Vision Loss Through Regenerative Biology
Biologist Travis Bailey gained an interest in regenerative biology as an undergraduate student and forged his pathway into the field through his postdoctoral work at the Center for Zebrafish Research at the University of Notre Dame.  Bailey says we can gain important information on how organs regenerate by determining how they were generated in the first place. During his graduate studies in developmental biology at Baylor College of Medicine, he had the opportunity to study how similarly the eyes of fish and humans develop and how genes are employed to form the eye. This led to his interest in zebrafish and their ability, unlike humans, to proliferate damaged retinal cells. When not in his lab, Travis likes to spend his time gardening and exploring the rivers, streams, and lakes of upstate New York with his wife and four daughters, as well as any others who like to come along.