John Misak, New York Institute of Technology – Storytelling in Video Games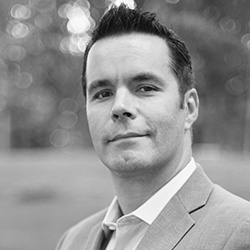 The complexity and immersion of good stories can be found in many mediums.
John Misak, assistant professor of English at the New York Institute of Technology, examines how video games are stretching their legs and charting a new path in storytelling.
John Misak joined NYIT in January of 2003 as a lecturer in the English department. He has since taught several courses and has worked as a tutor in the writing center for 12 years.
Misak brings his experience working as a journalist in the video game industry to his classroom through the use and discussion of technology. His courses focus on modern writing tools, like smartphones and tablets, as well as discussing how these technologies touch our lives. His research focuses on this and the use of video games as literature. He also writes mystery novels and teaches a detective fiction class where he shows students, firsthand, how such novels are researched and written.
He earned his bachelor of English at Hofstra University, his M.A. in creative writing at Queens College, and his doctorate at St. John's University.
Storytelling in Video Games

What do Shakespeare and Hemingway have in common with World of Warcraft? Many of today's video games parallel the greatest literature in history, with an added immersive experience. While teachers traditionally encourage students to read more to sharpen writing skills, video games can also help improve students' narrative composition skills.
Just as older video games helped develop imagination, newer games engage players in stories that span many topics, including social commentary, popular culture, and literature traditions. In playing, students make decisions, investing time in crafting the narrative that plays out on their screens. In doing so, they understand narrative not only as readers, but also as creators.  
Not unlike reading classic literature, playing a video game like The Last of Us allows students to analyze themes like morality, actions and consequences, and relationships. Video game exercises help students develop an understanding of narrative skills that transfers across the curriculum, and even students who have no experience with games can find interest in these exercises.
Having students play video games or even watch YouTube videos of games can provide visual learners with a critical eye toward other works of narrative, including literature and film. Students learn differently, and for visual learners it's often a matter of 'don't tell me, show me'. Science now backs this up; new research has also shown that video games directly engage the hippocampus, the part of the brain thought to be the center of emotion and memory, and impart environmental enrichment to players.
Video games allow new writers to gain a sense of place and to understand the difference between simply seeing their surroundings and experiencing them. In turn, their writing composition also becomes immersive, allowing the reader not only to read the details of a story's setting, but to feel them as if they are actually there.