Alejandro Gugliucci, Touro University California – Sugar and Fatty Liver Disease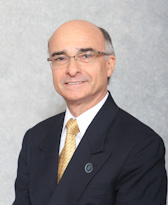 Excess sugar intake has many bad effects on your health.
Alejandro Gugliucci, professor and associate dean for research at Touro University California, discusses another reason to cut sugar from your diet.
Dr. Alejandro Gugliucci is a founding faculty member at Touro University, California, USA which he joined in 1997. He earned his MD and Board Certification in Laboratory Medicine from the University of the Republic, Uruguay. He obtained his PhD in Biochemistry at the University Louis Pasteur of Strasbourg, France. His postdoctoral fellowship in Cell Biology was carried out at the University of Montreal, Canada, where he also worked a few years as a faculty member before moving to the USA.
In his alma mater he was a professor in the Biochemistry and Clinical Pathology departments where he was Head of the Lipoprotein Metabolism division at 20-floor, 800 bed hospital for more than 10 years. He was a visiting professor in Tokyo Juntendo University and Niigata Medical School, Japan in 1998 and at the University of Sao Paulo, Brazil in 2007. He has been Full Professor of Biochemistry for the past 8 years. He served as COM Research Director then Associate Dean for Research for the past 10 years leading the exponential growth of research at TUC, the most significant in the Touro College system. He has been recently appointed as University Director of Research Development and Sponsored Programs.
He has more than 30 years of experience in teaching of biochemistry, cell biology, physiology and clinical biochemistry, in 3 languages. Over the last 30 y over  6,000 medical students have received instruction from Dr Gugliucci. During his years in Canada he specialized in PBL.  At Touro he created and directed a Problem Based Learning program that ran for 8 years as well as a Laboratory Diagnosis course that also ran for 8 years. He also implemented and run an elective courses on Research Methodology and another Clinical Biochemistry for several years. He has authored 2 book chapters in Baynes's Medical Biochemistry, a textbook that will see its 4th Edition published in 2014.
His research interests lie on the role of glycation, oxidative reactions and the antioxidant enzyme paraoxonase on human disease, with a particular emphasis in diabetes, metabolic syndrome, obesity and atherosclerosis. Dr. Gugliucci is currently funded by 2 R01 grants from NIH and has been previously funded by the Canadian Diabetes Association, Asociation Diabete Quebec, NSERC (Natural Sciences and Engineering Research Council of Canada), Japan International Collaboration Agency, the Juvenile Diabetes Research Foundation, Pfizer and from intramural grants from Montreal, Canada and Touro Universities. He actively collaborates and publishes with faculty from UCSF, Hebrew University of Jerusalem, Showa, Kyoto and Jichi Universities, (Japan);  Reus University (Catalunya-Spain) and University of the Republic, Uruguay. He has published more than 80 articles in peer reviewed international journals, more than 180 abstracts and numerous invited reviews. He is a member of the Editorial Advisory Board for Life Sciences, Associate Editor of the Journal of Pediatric Biochemistry, a founding member of the International Maillard Reaction Society, where he serves in the Publications and Education Committee. He serves as ad hoc referee for more than 30 international journals.
Sugar and Fatty Liver Disease

In the past 20 years, the prevalence of fatty liver disease among children and teens has more than doubled.  At the same time, we've increased our sugar intake, especially fructose, which is abundant in processed foods, fruit juices and sodas. The relationship between fructose and fatty liver is not well understood. What is known is that fructose is only metabolized in the liver, and excess fructose is stored in the liver as fat. We wanted to determine if fructose was responsible for an increase in fatty liver, as opposed to obesity or simply a high calorie diet. Because it's unethical to increase the sugar in a child's diet, we looked at the effects of a low sugar diet.* We provided obese children and teens with a reduced sugar diet, and by substituting starches for sugar, we didn't alter the calorie content of the diet. We reduced sugar intake from 28 percent of total daily calories to 10 percent, and reduced fructose from 12 to 4 percent. The subjects underwent MRIs and other sophisticated studies before and after the nine-day intervention diet. At the end of the nine days, liver fat decreased from a median of 7.1 percent to 3.8 percent, and visceral fat also decreased significantly. The effects were dramatic in every child. We also traced fructose and saw that rates of fructose being synthesized into fat went down.  We saw improvements in insulin sensitivity, secretion, and clearance. Because there was not significant weight loss, we concluded that these results were due to a reduction in fructose not weight loss. Fatty liver is associated with metabolic syndrome and type 2 diabetes. The importance of this study is that if we can modify the fatty liver by having a reduced sugar diet, we may be able to reduce insulin resistance, the metabolic syndrome, and type 2 diabetes.
*-omitted from recording due to time constraints.