The Academic Minute for 2017.10.9-10.13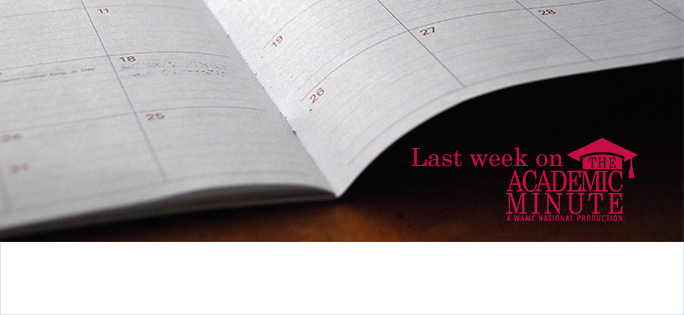 Academic Minute from 10.2 – 10.6
Monday, October 9th
Jill McCorkel – Villanova University
Effects of Parental Incarceration on Children
Dr. McCorkel is Associate Professor of Sociology and Criminology and a Faculty Associate of the Africana Studies Program at Villanova University.  She received her Ph.D. in Sociology at the University of Delaware.  While there, she worked as the lead ethnographer at the Center for Drug & Alcohol Studies on several projects funded by the National Institute of Drug Abuse (NIDA), including research on prison-based drug treatment programs, prisoner reentry, and street-level drug trafficking.  During the Fall 2017 – Spring 2018 academic year, Dr. McCorkel is on sabbatical in Dublin, Ireland.  She will be a visiting scholar at the Institute of Criminology at University College Dublin.
Tuesday, October 10th
Krista Ingram – Colgate University
The Decision-Making of Early Birds and Night Owls
Research interests include social behavior, chronobiology, human behavior, molecular ecology, tropical conservation genetics, and comparative sociogenomics.
Teaching interests include animal behavior, evolutionary biology, molecular ecology and the evolution of social behavior.
Wednesday, October 11th
Stacie Bosley – Hamline University
Pyramid Schemes
Stacie Bosley is an economist who focuses on microeconomics and behavioral economics in both her research and teaching. Bosley is presently studying the dynamics of pyramid schemes in the U.S. and around the world, examining social and economic factors that influence participation. She teaches courses in microeconomic theory, managerial economics, behavioral economics and quantitative analysis, conducts summer collaborative research with undergraduate students, and was awarded the university's Faculty Advisor of the Year award. The recipient of the 2013 Dean's leadership award for work on academic programs and assessment, Bosley has served as the university's Director of Assessment. Bosley holds a BBA in Finance from the University of Wisconsin-Madison and a Ph.D. in Applied Economics from the University of Minnesota. Prior to her graduate education, she worked as a consultant for Accenture (then Andersen Consulting) coding and designing human resource and payroll systems for public sector clients.
Thursday, October 12th
Susan Gilbertz – Montana State University Billings
Sense of Place
Susan grew up on a cattle and bison ranch in northeastern Wyoming. She attended small, rural schools through the 8th grade.
She earned bachelors and master's degrees in communication from the University of Wyoming. Later she earned her Ph.D. in Geography from Texas A&M University, and in 2003 she joined the faculty at Montana State University Billings.
Friday, October 13th
Susan Dicklitch-Nelson – Franklin & Marshall College
Safety of Sexual Minorities
Dr. Dicklitch-Nelson is Professor of Government and Chair of  the Government Department..  Her area of expertise is human rights,  specifically  LGBTI human rights and  Sub-Saharan Africa.  Dr. Dicklitch-Nelson has published widely on human rights and democracy in Cameroon and Uganda, including a book called The Elusive Promise of Non-governmental Organizations in Africa: Lessons from Uganda (Palgrave/McMillan).