The Academic Minute for 2017.9.4-9.8 – JOBS WEEK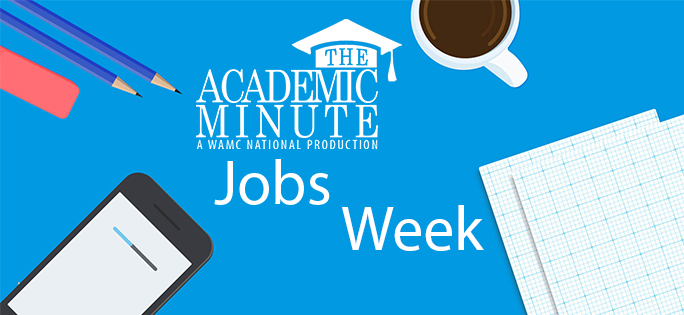 Academic Minute from 9.4- 9.8
Monday, September 4th
Sarah Moore – University of Puget Sound
Millennial Workers
Sarah Moore is Professor and Chair of the Department of Psychology at the University of Puget Sound.  Since joining the faculty in 1993, her research has focused on the effects of work-related stressors, such as layoffs, reengineering, and various job characteristics on employee health, work attitudes, and work performance.  Moore has also investigated work-home integration and conflict, the unique work stressors experienced by managerial women, and generational work differences and similarities.  Her current research focus on the changing social contract and the ways in which employees engage with their work and organizations.
Tuesday, September 5th
Kevin LaGrandeur – New York Institute of Technology
A.I. Taking Jobs
The scholarly work of Kevin LaGrandeur proves that the humanities and sciences have more in common than meets the eye.
His book, Androids and Intelligent Networks in Early Modern Literature and Culture: Artificial Slaves, awarded a 2014 Science Fiction and Technoculture Studies Prize honorable mention, was was the product of interdisciplinary research that also led to a number of articles over the past several years. His latest research on medicine and literature, in collaboration with two physicians, explores an alternate theory of how Shakespeare and some of his fellow playwrights may have died. The project is funded by an Institutional Support for Research and Creativity grant from NYIT. Dean Olsen, D.O., an adjunct professor in the College of Osteopathic Medicine, is one of the consulting doctors.
Wednesday, September 6th
Kimberly Merriman – University of Massachusetts Lowell
Gig Work
Dr. Merriman is a widely published scholar and a recognized authority on compensation by sources such as the Wall Street Journal and The Conference Board. She serves as a non-profit board member and on the editorial board of Organizational Behavior and Human Decision Processes.
Thursday, September 7th
Kacey Beddoes – University of Massachusetts Lowell
Wage Gap
Kacey Beddoes is an Assistant Professor of Sociology and Faculty Associate of the Center for Women and Work at the University of Massachusetts Lowell. She received her PhD in Science and Technology Studies from Virginia Tech (2011), along with graduate certificates in Women's and Gender Studies and Engineering Education. Her research interests include gender, higher education, and interdisciplinarity.
Friday, September 8th
David Zonderman – North Carolina State University
Labor Unions
David A. Zonderman is an Alumni Distinguished Undergraduate Professor and Department Head in History at North Carolina State University (NCSU).  Professor Zonderman teaches introductory, advanced, and graduate courses in U.S. History, American Labor History, History of Nonprofits, and Public History (Museums). From 2013-15, Dr. Zonderman served as Chair of the Faculty at NCSU.