Virginia Ramseyer Winter, University of Missouri – Teen Body Image Perception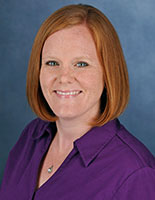 Body image can be a troubling topic for teens.
Virginia Ramseyer Winter, assistant professor in the school of social work at the University of Missouri, explores how bad body image can lead to unhealthy behaviors.
Dr. Ramseyer Winter's primary research agenda, grounded in theory and the strengths perspective, examines body image in relation to women's physical, mental and sexual health. With her scholarship, she is most interested in improving women's body image to ultimately lead to improvements in women's health outcomes. Existing literature suggests that poor body image may be related to riskier sexual behaviors, eating disorders, anxiety, depression, and poor physical health outcomes.
In future work, she would like to examine service providers to discover how body image discussions are presented in practice with their clients and what impact this may have on their overall health. Additionally, this work will hopefully highlight any barriers to providing services and interventions around body image to women in practice. Ultimately, Dr. Ramseyer Winter plans to conduct intervention research in collaboration with community agencies that serve marginalized women.
Dr. Ramseyer Winter defended her dissertation, Sexual Objectification, Self-Objectification, Body Appreciation, and Quality of the Sexual Relationship in Relation to Preventative Sexual Health Behaviors in a Sample of Emerging Adult Women, in April 2015. She is currently working to disseminate the findings of this research. Dr. Ramseyer Winter will be teaching Human Behavior in the Social Environment to BSW and MSW students and Community and Organizational Dynamics to BSW students.
Teen Body Image Perception

Appearance and body image play a major role in how teenagers perceive themselves. But can negative body image lead impact health and wellness, especially when it comes to alcohol and tobacco use?  
Our study aimed to answer that question by looking into the relationship between teenage body image and substance use.
Using data from a national survey of American teenagers, we looked at associations between perceived size and weight, perceived attractiveness, and levels of alcohol and tobacco use.
We found that size and attractiveness were significantly related to substance use. In particular girls who thought they were too fat were more likely to use alcohol and tobacco. And boys who thought they were too skinny were more likely to smoke, while boys who considered themselves fat were more likely to binge drink.
In addition to body size, we looked at the connection between perceived attractiveness and substance use. Girls who thought they were not at all good looking were more likely to smoke. Girls who thought they were very good looking were more likely to binge drink. This could be because attractiveness is often associated with popularity, which can be related to increased alcohol use.
We know that body shaming language can affect teenagers who have both positive and negative perceptions of themselves. To improve body image awareness, parents, schools and health providers need to be aware of body shaming language and correct such behavior to help teenagers identify with positive body image messages.