The Academic Minute for 2017.7.10-7.14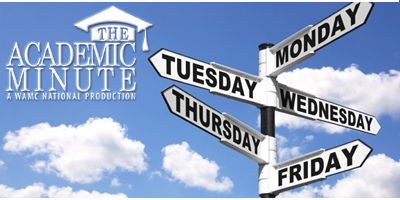 Academic Minute from 7.10 – 7.14
Monday, July 10th
Brain Beatty – New York Institute of Technology
Heart Disease
Brian Beatty, Ph.D., specializes in evolutionary biology, paleontology, anatomy, and paleopathology. His research focuses on marine mammals such as whales, dolphins, and manatees, as well as hoofed mammals such as camels, deer, and extinct forms.  In addition to teaching courses on the musculoskeletal and nervous systems and gross anatomy,  Brian serves as managing editor of the Journal of Vertebrate Paleontology and runs his own blog, The Aquatic Amniote, where he shares news and insights about marine mammals, marine reptiles, and the evolution of aquatic amniotes.
He is also a research collaborator for the Smithsonian Institution's National Museum of Natural History and a research associate for the Virginia Museum of Natural History and the University of Kansas Natural History Museum and Biodiversity Research Center.
Brian received his Ph.D. in ecology and evolutionary biology at the University of Kansas, master's degree in anatomy at Howard University, and bachelor's degree in zoology with a minor in geology at the University of Florida.
Tuesday, July 11th
Mark Bartholomew – University at Buffalo
Free Speech and Advertising
Mark Bartholomew, professor of law at the University at Buffalo School of Law, writes and teaches in the areas of intellectual property and law and technology, with an emphasis on copyright, trademarks, advertising regulation, and online privacy. His articles on these subjects have been published in the Vanderbilt Law Review, the George Washington Law Review, the William & Mary Law Review, the Brigham Young Law Review, the Connecticut Law Review, and the Berkeley Technology Law Journal among others.
Bartholomew is a two-time winner of the School of Law's only teaching award, the Faculty Award.  In 2009, he received the University at Buffalo's Teaching Innovation Award.  In 2016, he received the SUNY Chancellor's Award for Excellence in Teaching.  Bartholomew received his B.A. from Cornell University and his J.D. from Yale Law School.  Before joining UB, he practiced law, both as a litigator for a San Francisco law firm and as a deputy county counsel in Sonoma County, California. He grew up in South Bend, Indiana.
His book Adcreep: The Case Against Modern Marketing was published this spring by Stanford University Press.
Wednesday, July 12th
Sarah Schoppe-Sullivan – The Ohio State University
Facebook and New Mom Insecurity
Sarah Schoppe-Sullivan is a professor of Human Sciences and Psychology (by courtesy) and a faculty associate of the Crane Center for Early Childhood Research and Policy. I am also a Fellow of the National Council on Family Relations.
I received my Ph.D. in Psychology (Developmental) from the University of Illinois at Urbana-Champaign in 2003. My undergraduate degree was also in Psychology from Northwestern University.
Scholarly Interests:  coparenting, maternal gatekeeping, father-child relationships, transition to parenthood, child influences on family relationships
My research focuses on the family system as the primary context for young children's socioemotional development. I have three central areas of interest: (1) coparenting relationships – how effectively adults within the family system coordinate their roles as parents – and the implications of the quality of coparenting relationships for child and family functioning; (2) the roles of fathers in the family system, particularly the roles of fathers within coparenting relationships; and (3) the effects of children's characteristics and behavior on family relationships.
Thursday, July 13th
Bryan McCann – Louisiana State University
Gangsta Rap and the War on Crime
My work broadly engages the intersection of rhetorical and cultural studies, with an emphasis on the racialized and gendered politics of crime and violence in public culture. My current projects attend to the circulation and appropriation of blackness in activist, legal, and literary spaces.  My published scholarship appears in the journals Communication and Critical/Cultural Studies; Critical Studies in Media Communication; Communication, Culture, & Critique; the edited volume Communication Activism; and other international, national, and regional outlets.
My teaching and scholarship draw heavily on my involvement with community organizing efforts concerning the prison-industrial complex, organized labor, and other social justice issues. In addition to appearing on local newscasts and the national program Democracy Now!, I have written articles about the death penalty for the online periodicals AlterNet and Jurist.
I also gave a TEDx talk in 2014 on race and criminal justice.
Bryan McCann's book, The Mark of Criminality: Rhetoric, Race, and Gangsta Rap in the War-on-Crime Era, was released June 16, by University of Alabama Press.
Friday, July 14th
Jorge Pena – University of California Davis
Depression and Video Games
Jorge Peña specializes in computer-mediated communication, new media, communication in video games and virtual environments, and content analysis of online communication. He is a member of the editorial board of Journal of Computer-Mediated Communication and is currently vice-chair of the Game Studies Division at the National Communication Association.