The Academic Minute for 2017.6.26-6.30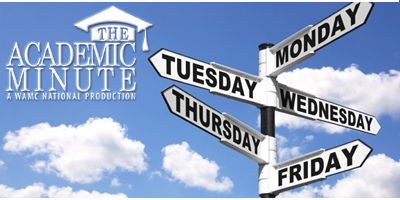 Academic Minute from 6.26 – 6.30
Monday, June 26th
Richard Sadler – Michigan State University
Fighting Rust Belt Blight
Rick Sadler is an Assistant Professor in the Division of Public Health at Michigan State University in Flint.  His work is rooted in community partnerships and aimed at strengthening the understanding between the built environment and health behaviors/outcomes, with the goal of shaping land use policy to build healthier cities.
Tuesday, June 27th
Dae-Young Kim – University of Missouri
Server Perceptions and Tipping
Dr. Dae-Young Kim joined the Hospitality Management (HM) faculty at the University of Missouri August 2006 after he received his Ph. D, (2006) and M. S. deewrergree (2002) in the Department of Hospitality and Tourism Management at Purdue University. He was the recipient of Rotarian Ambassadorial Scholarship Year 2000. He was also a Best Paper Award winner in the annual International CHRIE conference in 2005, and the 11st TOSOK International Tourism Conference. He has published moer than 100 peer-reviewed journal articles and concference proceedings. His papers have been published in top-tier refereed hospitality and tourism journals such as Annals of Tourism Research, Journal of Travel Research, Tourism Management, Cornell Hospitality Quarterly, Journal of Hospitality & Tourism Research, Journal of Travel & Tourism Marketing, International Journal of Hospitality Management, Tourism Analysis, and Computers in Human Behavior. He serves on the Editorial Board Member of Journal of Travel & Tourism Marketing, Journal of Hospitality Marekting & Management, Journal of Convention & Event Tourism, and Asian Pacific Journal of Tourism Research. He is a membership secretary of Asia Pacific Tourism Association (APTA) since 2014.
Wednesday, June 28th
Jurgen Kornmeier – University of Freiburg
Is The Mona Lisa Smiling?
Jürgen Kornmeier is a senior researcher at the University of Freiburg.

Thursday, June 29th
Amanda Hiner – Winthrop University
Teaching Critical Thinking
Dr. Amanda Hiner, Assistant Professor of English at Winthrop University, has taught graduate- and undergraduate-level courses in critical thinking, academic writing, and literature for over twenty years.  She holds a Master's Degree and a Ph.D. in eighteenth-century literature from Washington University in St. Louis and serves as the Coordinator for the Critical Reading, Thinking, and Writing Program at Winthrop University.  Under her leadership, Winthrop's critical thinking program achieved international recognition as one of only eight academic institutions formally affiliated with the Foundation for Critical Thinking in Berkeley, California.
Friday, June 30th
Hannah Arem – George Washington University
Weekend Warriors
Dr. Hannah Arem is an Assistant Professor in the Department of Epidemiology and Biostatistics. Her research interests are in lifestyle and cancer outcomes. Specifically, Dr. Arem focuses on physical activity and cancer survivorship, with an emphasis on dissemination and implementation research. Before joining the GW Milken Institute School of Public Health, Dr. Arem completed a American Association for the Advancement of Science, Science and Technology Policy Fellowship at the U.S. Agency for International Development, focusing on implementation research in global health. Dr. Arem completed her Master of Health Sciences at Johns Hopkins Bloomberg School of Public Health, her Ph.D. in Chronic Disease Epidemiology at Yale University School of Public Health, and performed her pre- and post-doctoral fellowships at the National Cancer Institute.