Damayanthie Eluwawalage, Albright College – Aviator Fashion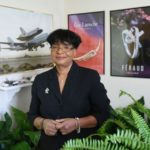 Pilots have a dress code today, but it wasn't always that way.
Damayanthie Eluwawalage, assistant professor of fashion design at Albright College, looks back at early flying fashion.
Damayanthie Eluwawalage, PhD, MPHA, researcher/author/historian/Private Pilot/designer, earned her interdisciplinary Ph.D. in Design and History from Edith Cowan University in Australia. She also holds a Bachelor of Arts in Design (Honours First-class) from the Curtin University of Technology, Australia. She is an Assistant Professor at Albright College, Pennsylvania and a Professional Historian who specializes in costume history. Her research interests include interdisciplinary design, design theory, aviation and space history, costume history and ergonomics/anthropometrics/human factors in design.
Dr. Eluwawalage's current scholarly research focuses on a range of interdisciplinary topics including Aesthetics and Fashion Theory; NASA Space Suit Design Concepts/Theories and Applications: Space Suits and its Development from Mercury to Shuttle Program: History of Costume in the State of New York and the State of Pennsylvania (1600 -1900); History of Aviation Dress; and 3D Scanning and Printing: An Exploration of the Potential for a New General Aviation Industry Paradigm.
Aviator Fashion

The history of aviation has extended over more than two thousand years from the earliest kites to supersonic/hypersonic flight by powered heavier-than-air jets. Earliest fliers who flew hot-air balloons, steam-powered bat-winged monoplanes, ornithopters, gliders, winged-gliders and early bi-planes wore formal wear or business suits for flying. As aviation developed in unheated open cockpits, the need for warm clothing quickly became apparent, as did the need for multiple pockets with closures of buttons, snaps, or zippers to prevent loss of articles during manoeuvres. Various types of flight jackets and pants coverings were developed and, during World War 1, leather two-piece outfits were common among pilots to ward off the chill caused by prop wash and the cold of low-oxygen high altitude flying. Leather quickly became the preferred material due to its durability and the protection it offered against flying debris such as insect strikes during climb-outs and landings, and oil thrown off by the simple rotary and inline motors of the time.
An airman's outrigs, air-suits and flying kits during the early-twentieth century, were made from gabardine, rubber, leather, silk, wool, camel fleece or quilted eiderdown and provided defence against piercing winds, downpours of rain and saturating mist. These reinforced suits with adjustable tabs for tightening sleeves or trouser legs, large pockets, helmets and waist belts, provided comfort and stability for the wearer. Heated flight suits/jackets were an integral part of high-flying wardrobe during the WWII era.  
The space suit, a universal symbol for man's endeavors into space, augment the basic pressure garment with a complex system of equipment/environmental systems designed to minimize the effort required to bend the limbs, resisting a soft pressure garment's natural tendency to stiffen against the vacuum. The earliest Mercury Program space suits descended from military pressure suits.