The Academic Minute for 2017.5.15-5.19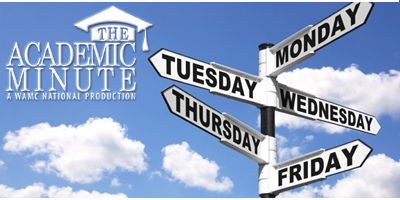 Academic Minute from 5.15 – 5.19
Monday, May 15th
Benjamin Blencowe – University of Toronto
One Protein's Sweeping Influence on Autism
Our research focuses on mechanisms underlying the regulation of gene expression and how these mechanisms go awry in human diseases. Most of our research is directed at understanding how alternative splicing is integrated with other layers.
Research conducted with Dr. Sabine Cordes, principal investigator at the University of Toronto.
Tuesday, May 16th
Scott Solomon – Rice University
The Future is Mixed Race
I am a biologist and science writer based in Houston, TX. I received my doctorate in Ecology, Evolution, and Behavior from the University of Texas at Austin where my research examined the evolutionary basis of biological diversity in the Amazon Basin. I have worked as a visiting researcher with the Smithsonian Institution in Washington, DC and the Universidade Estadual Paulista in Rio Claro, Brazil. I currently teach ecology, evolutionary biology, and scientific communication as a Professor in the Practice at Rice University. I also speak and write about science for the general public. My writing and photography have appeared in publications such as Slate, Nautilus, Aeon, and Wired.com and my first book, Future Humans: Inside the Science of Our Continuing Evolution was published by Yale University Press in October, 2016. Along with my wife, Catharina, and our three children, I live at Baker College on the Rice campus where we are Resident Associates.

Wednesday, May 17th
Lorie Vanchena – University of Kansas
Poetry of World War I
Lorie A. Vanchena, associate professor of Germanic Languages & Literatures at the University of Kansas, is author of a monograph and articles on 19th-century German political poetry. She also published Anton in America: A Novel from German-American Life, an annotated English translation of Reinhold Solger's novel from 1862. She teaches courses on the German transatlantic experience, German literature and the modern era, and contemporary German-speaking Europe. Professor Vanchena serves as Academic Director of the European Studies Program and the Max Kade Center and she directs the undergraduate program in the German department. In 2015 she received the J. Michael Young Academic Advisor Award from the College of Liberal Arts and Sciences in recognition of merit for guiding undergraduate students to make good decisions toward their educational and career goals. Her current research project on World War I American immigrant poetry has been supported by a Seed Grant from KU's Institute of Digital Research in the Humanities and the Max Kade Center; she employs 2-3 undergraduate research assistants who identify, transcribe, encode, and annotate poems. A first-year student joined the project last fall as an Emerging Scholar. Administered by the Center for Undergraduate Research, the Emerging Scholars Program allows participants to apply their federal work-study awards to positions as undergraduate research assistants.
Thursday, May 18th
Ali Haghani – University of Maryland
School Bus Route Efficiency
Dr. Haghani is Professor and Chairman of the Department of Civil and Environmental Engineering at the University of Maryland at College Park. He holds a BS degree in civil engineering from Shiraz University in Iran and an MS and a PhD degree in civil engineering from Northwestern University. Prior to coming to the University of Maryland, he taught as an Assistant Professor at the University of Pittsburgh and was a Post Doctoral Fellow and Research Scientist at Northwestern University. Dr. Haghani is an expert in transportation systems analysis, large scale mathematical modeling, traffic management, logistics, and emergency response.
Dr. Haghani has over twenty years of experience in research and education as well as vast experience in managing research programs and administrative expertise. He has completed many research projects for several sponsors including Maryland State Highway Administration, Maryland Mass Transit Administration, Federal Highway Administration, and I-95 Corridor Coalition. Some of his most recent completed projects are the evaluation of the cellular probe data for the Baltimore Multimodal Traveler Information System (MMTIS) in which he applied statistical analysis techniques to evaluate the quality of traffic data provided by the cellular probes compared with the traffic data collected using the traditional vehicle probes; and development of a methodology for quantifying the cost effectiveness of freeway service patrols. He is currently conducting the evaluation of the real-time travel data provided by Inrix to I-95 Corridor Coalition member states as part of the I-95 Corridor Coalition Vehicle Probe Project. He has served as the chairman of the TRB Committee on Transportation Network Modeling. He is a member of ASCE, the Institute of Transportation Engineers, ITS America, and the Institute for Operations Research and the Management Sciences. Dr. Haghani has also served as a member of the Editorial Advisory Board of Transportation Research and is currently Associate Editor of the Journal of Intelligent Transportation Systems.
Friday, May 19th
Anne McLaughlin – North Carolina State University
Students and Critical Thinking
Anne McLaughlin is an Associate Professor of Psychology at North Carolina State University. She directs the Learning, Aging, and Cognitive Ergonomics lab, studying how individual differences, particularly age, affect how people learn to use technology. As a human factors psychologist, she is interested in how we translate our thoughts and intentions to the technology that helps us reach our goals.