The Academic Minute for 2017.4.3-4.7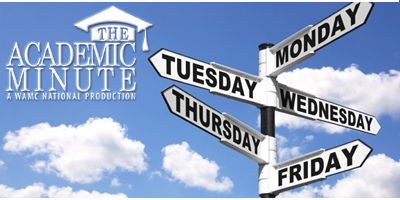 Academic Minute from 4.3 – 4.7
Monday, April 3rd
Amy Adamczyk – John Jay College of Criminal Justice
Public Opinions on Homosexuality
Amy Adamczyk is Professor of Sociology at John Jay College of Criminal Justice and the Programs of Doctoral Study in Sociology and Criminal Justice at The Graduate Center, City University of New York (CUNY).
Her research focuses on how different contexts (e.g. nations, counties, friendship groups), and personal religious beliefs shape people's deviant, criminal, and health-related attitudes and behaviors. Her research has been published widely in top ranking sociology and general social science journals including the American Sociological Review, Social Forces, Justice Quarterly, the Journal of Health and Social Behavior, Social Science Research, Social Science Quarterly, Sociological Quarterly, Sociology of Religion, and the Journal for the Scientific Study of Religion.
Tuesday, April 4th
Keith Herman – University of Missouri
Parental Involvement and Teacher Perceptions
Dr. Herman is a Professor in the Department of Educational, School, & Counseling Psychology at the University of Missouri. Dr. Herman primarily teaches doctoral coursework in the areas of parent behavior management, developmental psychopathology, and research design. Originally trained as a counseling psychologist at the University of Florida, Dr. Herman retrained in school psychology at the University of Oregon and also completed postdoctoral fellowships at Brown University and Johns Hopkins University. Before joining the department at Mizzou, he was a faculty member in the School of Medicine at Johns Hopkins University. His research takes a prevention science approach to understanding, preventing, and treating child depression. He has developed a conceptual model describing social developmental pathways to child depression with emphasis on modifiable aspects of schooling and parenting that contribute to children's risk. This model has informed the development of school and family interventions for children who are depressed.
Wednesday, April 5th
David Ward – Pacific Lutheran University
Building Hope to Attain Goals
Dr. Ward has been teaching at PLU since 2005. Dr. Ward loves teaching and has presented at the national and local level on various topics, including his research on hope. His dissertation on Hope in Couples Therapy won the dissertation of the year award from the American Association for Marriage and Family Therapy and his work in this area is published in the April 2010 volume of the Journal of Marital and Family Therapy. He was honored in 2009 as the Educator of the Year by the Washington Association for Marriage and Family Therapy. Dr. Ward maintains a private practice where he works with couples, families, and individuals. Dr. Ward has been married for 14 years and he and his wife Kathryn have 4 children. In his spare time he enjoys coaching flag football and soccer, and waterskiing in cold Washington lakes 7 months out of the year.

Thursday, April 6th
Michael Flaherty – Eckerd College
Why Time Flies or Trickles By
Michael G. Flaherty, Professor, earned his Ph.D. from the University of Illinois at Urbana-Champaign. His teaching and research interests include self and society, deviance, qualitative methods, time and temporal experience, social interaction, and the social construction of reality.
Friday, April 7th
Oscar Vilarroya – Autonomous University of Barcelona
Pregnancy Modifies A Woman's Brain
I am currently Associate Professor of Psychiatry at the Universitat Autonoma de Barcelona (UAB), director of the Cognitive Neuroscience Unit (URNC), director of the "Social Brain" Chair at the UAB, as well as coordinator of the Neuroimaging Research Group (NRG) at the Fundació IMIM.