The Academic Minute for 2017.3.6-3.10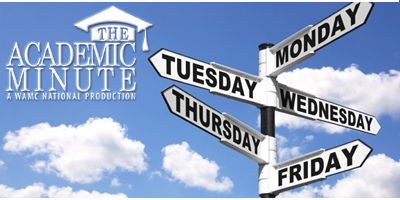 Academic Minute from 3.6 – 3.10
Monday, March 6th
Leigh Schmidt – Washington University in St. Louis
Distrust in Non-Believers in America
Leigh Eric Schmidt is the Edward C. Mallinckrodt Distinguished University Professor in the Humanities at Washington University in St. Louis. He joined the John C. Danforth Center on Religion and Politics in 2011.
From 2009 to 2011, he was the Charles Warren Professor of the History of Religion in America at Harvard University; from 1995 to 2009, he taught at Princeton University where he was the Agate Brown and George L. Collord Professor of Religion and served as chair of the Department of Religion; and, from 1989 to 1995, he taught in the Theological and Graduate Schools of Drew University.  He has held research fellowships at Stanford and Princeton and also through the National Endowment for the Humanities, the American Council of Learned Societies, the American Philosophical Society, and the John Simon Guggenheim Foundation.
Tuesday, March 7th
Jeffrey Hall – University of Kansas
Sense of Humor in Relationships
Jeffrey Hall is an Associate Professor of Communication Studies at University of Kansas. He earned his doctorate from the Annenberg School for Communication at the University of Southern California. He is the author of over 40 articles and book chapters on humor in relationships, making and keeping friends, and social networking and Facebook. He is an internationally recognized expert on flirting styles and has been interviewed around the world about his work on flirting and romance, including by National Public Radio, Cosmo, Men's Health, USA Today, Women's Health, Time Magazine, Wall Street Journal, US News and World Report and CNN).
Wednesday, March 8th
Laura Gee – Tufts University
Social Ties and Job Hunting
Laura K. Gee received her PhD in Economics from UC San Diego in 2013. Her research is in behavioral economics — with a particular focus on how individual decision making is influenced by group dynamics. She currently has two main lines of research. One line is about punishment and the provision of public goods including charitable contributions. The second is about the relationship between social networks and labor markets. Her studies rely on both lab and field experiments, as well as observational data.

Thursday, March 9th
Alexander Bay – Chapman University
Fukushima Nuclear Meltdown and Thyroid Cancer in Children
When I began teaching at Chapman University in August 2006, I had an established research trajectory focusing on the history of public health in Japan. My first book, Beriberi in Modern Japan, published in December, 2012, by the University of Rochester Press as part of the Rochester Studies in Medical History, grew out of my Stanford PhD dissertation. I produced an initial articulation of this project for the refereed journal Japan Review: Journal of the International Research Center for Japanese Studies. My article, "Beriberi, Military Medicine, and Medical Authority in Prewar Japan," appeared in the fall 2008 issue. I spent the 2008-2009 academic year in Japan during which a Japan Society for the Promotion of Science Postdoctoral Fellowship funded further research for and the writing of my book. In addition to journal articles and book monographs, I have presented original research at the annual meetings of the Association for Asian Studies, the History of Science Society, East Asian Science, Technology and Society, and the Japan Society for the History of Medicine. I have also written book reviews for The Pacific Circle, the Journal of the Japanese Society for the History of Medicine, First World War Studies, East Asian Science, Technology and Society: An International Journal, and The Journal of Asian Studies, and have acted as an peer reviewer for East Asian Science, Technology and Society: An International Journal.
Friday, March 10th
Robert Brecha – University of Dayton
Home Energy Consumption and Solar Power
Dr. Robert Brecha was born and raised in Ohio and attended Wilmington High School and then Wright State University, graduating  with a B.S. in physics in 1983. He received his Ph.D. in physics from the University of Texas at Austin in 1990. From October 1990 until November 1992 he was a post-doctoral researcher at the Max Planck Institute for Quantum Optics in Munich, Germany. Upon returning to the US, he took a position at the University of Dayton, where he has been since August 1993. He is now a Professor of Physics and teaches in the Renewable and Clean Energy  Graduate Program and coordinates the Sustainability, Energy and the Environment (SEE) Minor and other SEE initiatives.  Since 2006 he has been working periodically as a visiting scientist at the Potsdam Institute for Climate Impact Research in Germany.