The Academic Minute for 2017.3.20-3.24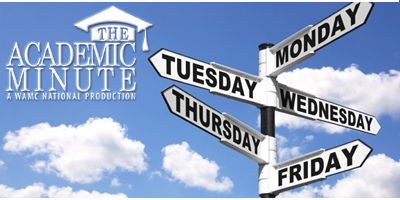 Academic Minute from 3.20 – 3.24
Monday, March 20th
Michael Mann – George Washington University
Local Weather and Belief in Climate Change
Michael Mann is an Assistant Professor of Geography at The George Washington University.   Here he teaches classes on GIS, Python programming, and spatial modeling.  His research has focused on the application of spatial data and econometric techniques to forecasting of human/natural systems interactions.

Tuesday, March 21st
Melissa Armstrong – University of Florida
What You're Not Telling Your Doctor
Dr. Armstrong is an assistant professor of neurology at the University of Florida (Gainesville, FL, USA) and Director of the Mangurian Clinical-Research Center for Lewy Body and Parkinson's Disease Dementia. She also serves as an evidence-based medicine methodology consultant for the American Academy of Neurology's clinical practice guideline program. She currently has a career development grant from the Agency for Healthcare Research and Quality (AHRQ) to investigate the impact of patient, caregiver, and advocate engagement on clinical practice guideline question development. Her research focuses on mechanisms and outcomes of patient engagement in guidelines, patient and family engagement in clinical decision-making, and patient-centered outcomes in Lewy body dementia.
Wednesday, March 22nd
Uriel Cohen Priva – Brown University
Speechrate
One of the fascinating aspects of language is the interaction of multiple constraints of different nature: physiological, cognitive, communicative and social pressures shape human language. Speakers may wish to ease the difficulty of articulating some word, but still need to make themselves understood by others. Change processes that are motivated by functional considerations may adversely affect other functional needs: word-final /t/ deletion in English may be motivated by the redundancy of /t/ in English, but when speakers elide the word-final /t/ in can't, they fail to make themselves understood. My research focuses on the interaction between those multiple pressures. In particular, I study how perceptual and articulatory pressures interact with the amount of information linguistic units carry.

Thursday, March 23rd
Colleen Heflin – University of Missouri
SNAP Benefits Reduce Emergency Room Visits
Colleen Heflin, professor in the University of Missouri Truman School of Public Affairs, conducts policy-relevant research that sits at the boundaries of sociology, economics, public health, public administration, and women's studies.
Friday, March 24th
Susan Davies – University of Dayton
Concussions in the Classroom
Susan Davies is associate professor of school psychology at the University of Dayton. She is author of Managing Concussions in Schools: A Guide to Recognition, Response, and Leadership, and founder and coordinator of the National Association of School Psychologists Traumatic Brain Injury Interest Group.