The Academic Minute for 2017.2.6-2.10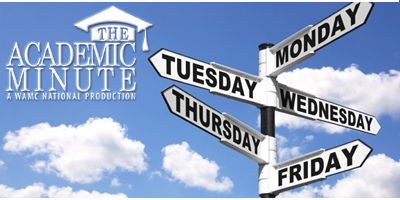 Academic Minute from 2.6 – 2.10
Monday, February 6th
Indranil Goswami – University at Buffalo
How to Boost Charitable Giving
Indranil Goswami, assistant professor of marketing in the University at Buffalo School of Management, teaches marketing research and studies pro-social behavior, choice architecture, judgement and decision-making, and motivation and self-control. His research has been covered by such media as The Wall Street Journal and Harvard Business Review.
Goswami joined the UB School of Management last year after completing a doctorate in marketing and an MBA at the University of Chicago. He also holds a post-graduate diploma in management from MICA in Ahmedabad, India, and a bachelor of engineering from the National Institute of Technology in Durgapur, India. Prior to joining higher education, Goswami worked in industry for Nielson Marketing Research and the Oracle India Development Center.

Tuesday, February 7th
Elizabeth Bryda – University of Missouri
Probiotics Can Reduce Stress Level and Anxiety
Our laboratory takes a comparative medicine approach to studying human disorders by using a variety of animal models of disease. The current emphasis in the lab is on the study of polycystic kidney disease, hereditary deafness, and inflammatory bowel disease. Using both rodent and zebrafish models, we are interested in characterizing disease-causing genes and their protein products in order to elucidate the molecular pathways in which these genes/proteins participate. This knowledge will allow a better understanding of both normal and abnormal development and may ultimately lead to targeted therapeutics. Additionally, we are interested in the generation and characterization of new animal models. Our lab has been involved in efforts to characterize rat embryonic stem cells (ESCs), isolate new rat ESC lines, create and validate a novel rat and zebrafish cell ablation model system and use evolving technologies such as CRISPR/Cas9 to create new genetically engineered rat models.  We are currently studying the role of microbiome on animal model phenotypes, including zebrafish models of stress and anxiety.

Wednesday, February 8th
Xiaosi Gu – University of Texas at Dallas
Effects of Belief on Nicotine Cravings
In 2015, Dr. Xiaosi Gu established the Computational Psychiatry Unit at the Center for BrainHealth, part of The University of Texas at Dallas where she is also an assistant professor in the School of Behavioral and Brain Sciences.
Dr. Gu's research in computational psychiatry examines the neural and computational mechanisms underlying human decision-making and social interaction in both health and disease, through a synthesis of functional magnetic resonance imaging (fMRI), brain connectivity modelling, neuropsychology (brain lesions studies), pharmacological challenges, and computational modelling.
The goal of her research program is two-fold: 1) to help re-define and eventually improve human mental health; 2) to understand the neural and computational mechanisms of decision-making and social behavior. She uses a highly inter-disciplinary approach in her research, which involves the integration of theories and methods from cognitive neuroscience, behavioral economics, psychology, psychiatry, mathematics, biophysics, computer science, and more.
Dr. Xiaosi Gu started her neuroimaging research at the Department of Psychology at Peking University (PKU), Beijing. After receiving a dual degree in Psychology and Economics from PKU, she moved to New York City to pursue a Ph.D. in Neuroscience at the Mount Sinai School of Medicine.  Dr. Gu completed her postdoctoral training in computational psychiatry and decision neuroscience at the Wellcome Trust Centre for Neuroimaging at University College London (UCL). During her time in London, she set up the world's first computational psychiatry course at UCL.
Thursday, February 9th
Jonathnan Dinman – University of Maryland
VEEV
Jonathan Dinman received his A.B. in Philosophy from Oberlin College in 1980, and his Ph.D. in Immunology and Infectious Diseases from the Johns Hopkins School of Public Health in 1988. He worked as a post-doctoral, and later as a staff fellow under Dr. Reed B. Wickner at the National Institutes of Health from 1989 – 1995. During this time, Dr. Dinman developed a yeast-based system for the study of programmed ribosomal frameshifting. In 1995, he began his career as an independent investigator, taking an Assistant Professor position in the Department of Molecular Genetics & Microbiology at the University of Medicine and Dentistry of New Jersey-Robert Wood Johnson Medical School. Dr. Dinman was promoted to Associate Professor in 2001. In January 2002 he moved to the Department of Cell Biology and Molecular Genetics at the University of Maryland, College Park MD. He is also a member of the Virology Training Program at the University of Maryland.
Dr. Dinman's research program has been built around programmed ribosomal frameshifting. This has led him into investigations of translational fidelity, ribosome structure/function, and control of gene regulation. He currently oversees one Research Associate Professor, three Post-doctoral fellow, six doctoral candidates, and one Honors program undergraduate student. Dr. Dinman has 2000 sq. ft. of laboratory space located in the Microbiology building, rooms 2135 and 2136. His office is adjacent to the lab, and students and post-docs have office space down the hall.
Friday, February 10th
Craig Smith – University of Michigan
Children and Confessions
Dr. Craig Smith's research focuses on children's social cognitive development and links to social behavior. Examples of specific areas of interest are: children's developing understanding of distributive and retributive justice, children's understanding of antisociality, children's reactions to conflicts and mitigating accounts (apologies, confessions, etc.), influences on children's money saving and spending behaviors, links between math performance and cognition about fairness, and children's use of social input as a guide for future thinking.
Craig is currently the director of the Living Lab project at the University of Michigan. The Living Lab is a research/education model that brings developmental research into community settings such as museums and libraries. The UM Living Lab sites currently include the Ann Arbor Hands-On Museum, the UM Museum of Natural History, and the main branch of the Ann Arbor District Library. Since the start of the Living Lab project in 2012, over 3,000 children and families have participated in research in these community settings, and thousands more have had opportunities to converse with researchers studying child development.